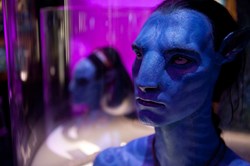 Dearborn, Mich. (PRWEB) October 07, 2013
Fans of AVATAR, the highest grossing film of all time, will have the chance to get a first-hand look inside the spectacular world of Pandora through AVATAR: The Exhibition, opening at Henry Ford Museum on October 26, 2013 through January 26, 2014. Organized by EMP Museum in Seattle, Wash., and developed in partnership with Twentieth Century Fox Consumer Products and James Cameron's Lightstorm Entertainment, AVATAR: The Exhibition will feature authentic props and costumes, interactive displays, concept models and sketches from the blockbuster film.
"The exhibition is a unique opportunity for people to learn more not only about how the film was made, but also experience Pandora in a much deeper way. Fans are able to see in-person the workmanship behind the film, whether it's how scenes are captured; or how a Na'vi costume was built first as a real world garment then produced digitally," said director James Cameron.
AVATAR: The Exhibition will include elaborate displays of artifacts and props such as the actual AMP (Armored Mobility Platform) suit used in the combat scenes, soldier uniforms, and the original, hand-made models of the Na'vi characters and their wardrobes. Visitors will get to step into Cameron's role as director and experience the process of creating a film like AVATAR through a series of interactive installations that demonstrate the groundbreaking usage of motion capture, virtual and 3-D technologies in film. The creation of Pandora will also be explored, revealing the science behind the universe, the creatures, the plants and origins of the Na'vi culture.
Admission to the exhibition is free for members. Nonmember tickets are $17 adults, $15 seniors (62 and up), $12.50 youth (5-12) and free for children ages 4 and under. For more information, call (313) 982-6001 or visit http://www.thehenryford.org.
About The Henry Ford
The Henry Ford in Dearborn, Michigan is an internationally-recognized cultural destination that brings the past forward by immersing visitors in the stories of ingenuity, resourcefulness and innovation that helped shape America. A national historic landmark with an unparalleled collection of artifacts from 300 years of American history, The Henry Ford is a force for sparking curiosity and inspiring tomorrow's innovators. Nearly two million visitors annually experience its five attractions: Henry Ford Museum, Greenfield Village, The Ford Rouge Factory Tour, The Benson Ford Research Center and The Henry Ford IMAX Theatre. A continually expanding array of content available online provides anytime, anywhere access. The Henry Ford is also home to Henry Ford Academy, a public charter high school which educates 485 students a year on the institution's campus. For more information please visit our website thehenryford.org.
About EMP Museum
EMP Museum is dedicated to the exploration of creativity and innovation in popular music and the thought-provoking ideas and experiences of science fiction.
About AVATAR
The Oscar® and Golden Globe® winning epic is the highest grossing film of all time, taking in over $2.7 billion in worldwide box office. Director James Cameron takes audiences to a spectacular world beyond imagination, where a reluctant hero embarks on a journey of redemption and discovery as he leads a heroic battle to save a civilization. AVATAR delivers a fully immersive cinematic experience of a new kind, where the revolutionary technology invented to make the film disappears into the emotion of the characters and the epic nature of the story.
About Twentieth Century Fox Consumer Products
A recognized industry leader, Twentieth Century Fox Consumer Products licenses and markets properties worldwide on behalf of Twentieth Century Fox Film Corporation, Twentieth Television and Fox Broadcasting Company, as well as third party lines. The division is aligned with Twentieth Century Fox Television, one of the top suppliers of prime time entertainment programming to the broadcast networks.