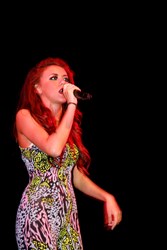 It's great to have so much support from the students at Havering College
Hornchurch, Greater London (PRWEB UK) 6 October 2013
Lydia, who has successfully completed an HNC in Performing Arts (Dance) at the college in Greater London, looks set to follow in the footsteps of Havering College alumna, celebrity Stacey Solomon.
Havering College Dance curriculum manager Elaine O'Connor, who taught both Stacey and Lydia, said this week: "Stacey and Lydia are both determined young women. Stacey is carving herself a good career as a TV presenter and reality show star. Lydia is every bit as hungry for success. She is really driven and I expect her to go far. Whatever happens now, I believe Lydia's career will take off."
Elaine sent Lydia a message of support after her devastating exit from The X Factor was screened on ITV1.
The 20-year-old from Collier Row had made it to boot camp and was initially selected to be in the girls' final top six by category mentor Nicole Sherzinger. But Lydia's joy soon turned to tears when she was replaced by another contestant.
Although Lydia has missed out on judges' houses, students at her former college are hoping for another X Factor twist.
Elaine said: "It was quite a cruel thing to happen but the students are all supporting Lydia on Twitter and calling for her to be brought back into The X Factor."
Lydia last performed for the college at the End of Year Dance Show held at the Queen's Theatre in Hornchurch in June. She wowed the audience with her X Factor room audition song, Mama Knows Best by Jessie J.
Lydia will be returning for the college's glittering graduation ceremony in November when she will receive recognition for her HNC achievement.
Lydia said: "I came to Havering College to further my dancing. I love dancing but singing is my main passion. The course really did help me.
"The X Factor is emotional but it is an amazing journey I have been on and I wouldn't change it. I am very strong and determined to get my goal. It's great to have so much support from the students at Havering College. I remember watching Stacey Solomon on The X Factor. Stacey and all the Essex performers and singers who have made it are very inspirational to me."
Havering College of Further and Higher Education holds Artsmark Gold status from Arts Council England in recognition of its commitment to, and excellence in, arts education. If you want a career in the Performing Arts industry, call the Threshold Services team on 01708 462801 or email information(at)havering-college(dot)ac(dot)uk to find out about courses to help you be what you want to be.
Follow the campaign for Lydia on Twitter at #bringlydiaback.