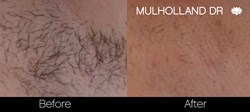 With MiraDry, we can now offer a long term solution for all patients, women and men alike, who are bothered by any degree of underarm sweating, odor and hair, not just the excessive "sweaters" that came in for Botox or surgery.
Toronto, Ontario (PRWEB) October 07, 2013
Toronto cosmetic surgeon, Dr. Stephen Mulholland, was recently featured on Canada's National Breakfast Television morning news show, demonstrating MiraDry, a new non-invasive microwave device for permanent elimination of underarm sweating, odor and hair that is gaining tremendous popularity amongst both women and men.
Dr. Mulholland, who launched the MiraDry program at his Toronto cosmetic surgery center, SpaMedica, six months ago, has been offering a range of treatments for excessive underarm sweating for 20 years. He explained the nature of the problems with the previously available hyperhidrosis treatments for underarm perspiration.
"20 percent of men and women complain of significant problems with underarm sweating. Another 30-40 percent of adult men and women would like to permanently reduce the amount of underarm perspiration if they could, even if the sweating is not excessive," explains Dr. Mulholland. "The problems with our previous treatments for underarm sweating were that they were temporary, like armpit Botox injections, which work well with a 90 percent reduction, but are expensive (often $2,000 or more per treatment), wear off after a year, necessitating re-treatment and will need to be repeated yearly. There are surgical methods, such as heating with lasers under the skin, surgical excision of the glands, or even ablating the sweating nerves in the neck, but, each all of these are surgical and have significant risks, recovery and patients may still suffer from recurrent sweating within one to two years. The launch of the MiraDry procedure now offers a god-send breakthrough for many underarm sweaters."
The MiraDry device uses non-surgical microwave technology that provides a lasting solution for underarm sweat, as well as armpit odor and hair. MiraDry can safely and dramatically reduce underarm sweat, with a lasting efficacy of 90 percent, along with a high patient satisfaction, 82 percent average sweat reduction, over 90 percent permanent hair and underarm odor reduction, with immediate results, no surgical incisions or cuts and with minimal patient downtime.
"MiraDry requires two, 40-minute procedures spaced three months apart. After some gentle, local freezing is placed under the armpit skin, the painless microwave hand piece is applied over the armpit, emitting contained microwave energy that passes into the skin of the armpit. The gentle and safe microwaves achieve a maximum elimination of sweat glands, underarm hair and odor with minimal impact to surrounding tissues. The sweat glands are eliminated and do not regenerate. Unlike older technologies and procedures, with MiraDry there are no scars and there is no significant risk of return to excessive sweating and thus no ongoing expenses. The MiraDry solution also comes with the added benefit of reduced odor and hair."
"With MiraDry, we can now offer a long term solution for all patients, women and men alike, who are bothered by any degree of underarm sweating, odor and hair, not just the excessive "sweaters" that came in for Botox or surgery. When compared to the cost of several expensive stained dresses, silk blouses or work shirts, it quickly becomes evident that MiraDry is an affordable, desirable and necessary option for unwanted underarm sweating, odor and hair," said Dr. Mulholland.
For a personal MiraDry story, please take a look at the video from The Breakfast Television National News show in Canada, which includes a MiraDry demonstration by Dr. Mulholland, patient interview as well as a before and after photo of the patient.
Dr. Mulholland's Bio:
Dr. R. Stephen Mulholland is a plastic and reconstructive surgeon, certified by the Royal College of Physicians and Surgeons of Canada and by the American Board of Plastic Surgery. He currently owns and operates his SpaMedica Infinite Vitality Clinic and Surgical Center in Toronto, Canada. Dr. Mulholland is an aesthetic artist, innovator and pioneer in the development of new cosmetic enhancement procedures and technology. Among Dr. Mulholland's numerous procedural developments, are patented technologies and trademarked procedures that include the FotoFacial RF®, the Pan G™ non-surgical facelift, the SonoPeel™, the LipoLite™, the ThreadLift™, the RestyLift™, Volumalift™ , the "5 Minute Nose Job", BotoFirm™, Bodytite™ and NeoGraft™. In addition, Dr. Mulholland is the developer and owner of the popular SpaMedware™ office and practice management and marketing software. Dr. Mulholland teaches workshops throughout the USA and world and is a recognized authority on minimally invasive cosmetic procedures. He has appeared on CBS, ABC, FOX and NBC's the Today Show live, demonstrating his procedures.