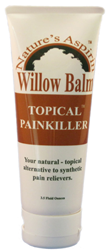 Nature alone can cure disease. Doctors cannot heal. They can only direct the sufferer back to the pathways of health. Nature alone can create, and healing is re-creation. - William S. Sadler
Murfreesboro, TN (PRWEB) October 10, 2013
'Willow Balm' is one of the most effective topical analgesics available, and is the number one choice for natural pain relief in the Farm and Ranch Supply market. Willow Balm is now available at Tractor Supply retail locations from coast to coast. With the support of Tractor Supply Co., I Woke Up Well Distributing, Inc. has achieved its goal of ensuring that Willow Balm Topical Painkiller be easily accessible to their customers in rural America.
Rural Americans experience aches, pains and minor injuries as part of their daily life. They often prefer using natural remedies to treat common ailments, staying true to their roots of using the healing properties available in nature. Hardworking families rely on their local farm and ranch supply store, and they appreciate having natural, affordable health care products such as Willow Balm Topical Painkiller available at Tractor Supply Company stores.
Willow Balm was born several years ago when a Tennessee daughter formulated it to help ease her mother's arthritis and fibromyalgia related pain. Her hobby and labor of love grew into a business when more and more folks began asking where they could buy Willow Balm. Manufactured near Nashville, Tennessee and a U.S. Patent Pending product, the balm provides superior pain relief with a proprietary blend of white willow bark, helichrysum, and other essential oils known for their anti-inflammatory properties. Aptly known as 'Nature's Aspirin,' using Willow Balm is a natural approach to soothe a plethora of ailments such as pain related to sore muscles, joint, back and neck pain, and arthritis-related discomfort. Unlike most existing 'over the counter' analgesics, the pain relieving properties in Willow Balm come solely from the power of nature.
I Woke Up Well Distributing Inc. is a Tennessee-based distributor of the natural pain relief product Willow Balm, and is a female-owned company. For further information, please visit the official website at http://www.willowbalm.com.