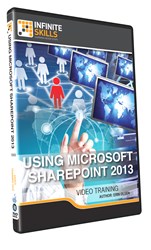 Learn to use Microsoft SharePoint 2013 at your own pace
(PRWEB) October 06, 2013
Software training firm Infinite Skills Inc. this week released its "Using Microsoft Sharepoint 2013 Tutorial," an introductory course teaching the basic features, navigation, and security tools for using Microsoft's web application and intranet platform.
SharePoint works in concert with Microsoft Server to create a platform capable of hosting a broad range of web applications designed for non-technical users, providing both large and small businesses and other organizations with capabilities like intranet portals, document and file management, collaboration, social networks, business intelligence integration, and more.
Infinite Skills' "Using Microsoft Sharepoint 2013 Video Training" focuses on the end-user's toolset, covering all the basic features offered by Sharepoint, allowing beginners to quickly and effectively utilize all of Sharepoint's capabilities.
Using Microsoft Sharepoint 2013 Tutorial - DVD
Course author Erin Olsen, a Microsoft Certified Instructor, holds a master's degree in education with emphasis on instructional design and technology. She has been a computer trainer since 1994, starting with Windows 3.1. Her training style is based on real-world experience as an entrepreneur where she uses Sharepoint and other Microsoft Office software to run her business. Her teaching style is oriented toward the practical needs of everyday users in a business environment.
Following a brief introduction to Sharepoint, Olsen gets started explaining its basic navigation features, showing users how to personalize the Sharepoint interface as they learn their way around.
Olsen then covers Sharepoint lists, introducing RSS feeds and alerts, sorting and filtering information, working with views, and how to export lists to Excel. Advanced topics in lists are also covered, showing how to participate in group discussions, wikis, surveys, and blogs through Sharepoint.
The course then explores Sharepoint libraries, showing how to create and use libraries to store, manage, and share documents, images, and slides, as well as how to link libraries to Office and Outlook.
The course closes with a chapter on using Sharepoint's social networking tools, explaining how to link colleagues with Sharepoint's social networking platform.
"Our goal is to help you enjoy Sharepoint and effectively utilize all it has to offer," Olsen says. "Through this series, you'll learn all its tools so you can choose which components will work best for you."
Free demo videos and a full list of course contents can be found on the Using Microsoft Sharepoint 2013 training page of the InfiniteSkills website:
http://www.infiniteskills.com/training/using-microsoft-sharepoint-2013.html
InfiniteSkills offers its Using Microsoft Sharepoint 2013 Tutorial either as a DVD or a direct download from the company website at a retail price of $99.95. Though the compatibility of programs varies, all InfiniteSkills titles and formats are compatible with both Mac and Windows operating systems, and shipping is available around the globe. Additionally, InfiniteSkills tutorials are supported by project files which correspond to examples in the videos.
About Infinite Skills Inc.
A leader in the field of software training, Infinite Skills designs its courses on a task-oriented model, teaching complex skills by providing hands-on examples and guiding users as they carry out essential functions. Infinite Skills offers a wide range of software titles available as DVDs, digital downloads, and in iPad editions. Infinite Skills now offers a subscription service, providing access to all its training content for a monthly fee, keeping with company's aim of delivering professional training to customers anywhere they want to learn.