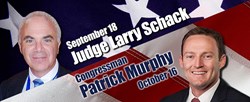 "At Steinger, Iscoe & Greene we are proud to be active members of both the legal and local communities we serve." - Michael Steinger, Co-Founding Partner
PORT ST. LUCIE, FL (PRWEB) October 07, 2013
The Port Saint Lucie Bar Association is proud to have Congressman Patrick Murphy speaking at their upcoming luncheon on October 16th, 2013. The event will be held from 12noon – 1:00PM at Carrabba's Italian Grill, St. Lucie West, where the Congressman will speak on "Providing a Federal Update and Overview of Legislative Process".
Several Steinger, Iscoe & Greene attorneys are contributing members of the Port Saint Lucie Bar Association, including Executive Board President Anthony Visone and Vice-President Alfred Bell. Mr. Visone has been involved in the litigation of several multi-million dollar leg amputation cases and is currently working on new ways to help amputees with their legal needs. According to his Executive Board profile, Mr. Visone was Vice President of the PSLBA for the 2011-2012 term and became President of the PSLBA in September 2012.
Mr. Bell has worked for a number of major insurance companies and corporations, where he gained significant insight into their practices, as stated in his Executive Board profile. This insight has gained him the respect of personal injury attorneys as Mr. Bell has lectured on how to successfully litigate and try cases against big business, ensuring justice is served and the rights of the injured are protected.
"At Steinger, Iscoe & Greene we are proud to be active members of both the legal and local communities we serve. The PSL Bar Association is a growing legal organization dedicated to helping the local legal community better serve and represent most effectively injury victims and their families," states firm founding partner, Michael Steinger.
The October Luncheon, costs $10 for PSLBA members and $30 for non-members. Advanced payment preferred by mail to Diana Goldman 1331 SE Port Saint Lucie Boulevard, Suite 102 Port St. Lucie, FL 34952, though cash or check will be accepted at the door. The deadline to RSVP is Monday October 14tt and seating is limited so participants are encouraged to arrive early and secure their seat.