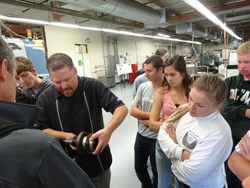 Through our high school and manufacturing partners, Sierra College can connect students to jobs.
Rocklin, CA (PRWEB) October 05, 2013
Through the Sierra College Center for Applied Competitive Technologies(CACT) and Science, Technology, Engineering & Math (STEM) Collaborative, Colfax High School students toured RobbJack , a precision cutting tool manufacturing in Lincoln, CA. The event was organized in celebration of National Manufacturing Day, a national program to inspire students to pursue manufacturing careers, explained Sierra College President Willy Duncan.
"Through our high school and manufacturing partners, Sierra College can connect students to jobs," said Duncan. "Our goal is to support local businesses by preparing students with 21st Century skills. On tours, students can see how the skills they are learning in the classroom are applied in the workplace and they become more aware of the education path needed to pursue technical careers."
Jonathan Schwartz, who teaches Math & Engineering at Colfax High School, appreciated that the RobbJack tour emphasized the use of math as well as demonstrated cutting edge engineering. "It was an opportunity for the students to see how vital math is to many careers," said Schwartz. "Many of the students commented that they didn't know trigonometry was so useful for design and manufacturing."
Mike MacArthur, Vice President of Engineering, RobbJack Corporation, organized the student tour and developed examples to show students how trigonometry is used on a daily basis to improve designs and work with new materials.
"The Colfax students with 3D modeling experience had excellent questions about cutting materials and methods," said MacArthur. "RobbJack appreciates that Sierra College CACT makes it possible to connect with teachers interested in bringing applied mathematics into the classroom so students make connections between what they are learning and future manufacturing careers."
As part of the National Manufacturing Day celebrations locally, on Oct. 9, Harris & Bruno in Roseville, CA will host Oakmont High School Design Tech students and Progressive Technology in Rocklin, CA hosts Del Oro High School Programming students.
About Sierra College CACT
Sierra College Center for Applied Competitive Technologies (CACT) is focused on Advanced Manufacturing and is funded through the Workforce and Economic Development program of the California Community College Chancellor's Office. Since 1992, the Sierra College CACT has provided customized training for organizations, manufacturers and technology companies throughout Northern California. Through the STEM Collaborative, Sierra College works with middle and high schools to promote STEM Education and careers. Additional information is available at http://www.sierracollegetraining.com or contact Carol Pepper-Kittredge at 916-660-7801 or cpepper-kittredge(at)sierracollege(dot)edu.