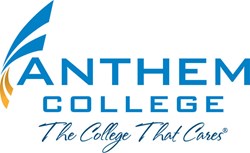 Las Vegas, NV (PRWEB) October 04, 2013
Anthem Education Group (AEG), a family of career-focused schools and colleges offering curricula that teach practical and applicable skills for specific industries, recently announced that its Las Vegas campus, formerly known as Anthem Institute, has been renamed Anthem College. The school will continue to offer high quality career training in healthcare-related fields, including new programs in Information Technology, Computer & Network Technician, Patient Care Technician and Health Services Administration.
"Under our new name, Anthem College-Las Vegas remains dedicated to providing our students with an education that employers will value," said Veronica Donahue, executive director of Anthem College-Las Vegas. "Our new programs are industry-current and reflect our commitment that students who come prepared to learn will be able to pursue an education in fields with growing employment opportunities."
Founded in 2002, Anthem College-Las Vegas is accredited by the Accrediting Council of Independent Colleges & Schools and the American Society of Health-System Pharmacists. In addition to the new programs, offered as diploma and associate's degree programs, the school offers diploma programs in Medical Front Office & Billing, Dental Assistant Technician, Massage Therapy, Medical Assistant Technician, Pharmacy Technician and Surgical Technology.
Anthem College-Las Vegas is centrally located in Clark County off I-15 and West Sahara Ave. at 2320 S. Rancho Drive. For more information about programs and services offered at the campus, please call 888-852-7272. Visit Anthem.edu, facebook.com/AnthemEducationGroup and follow us on Twitter at twitter.com/AnthemEducation.
###
ABOUT ANTHEM COLLEGE-LAS VEGAS:
Founded in 2002, Anthem College-Las Vegas provides career-focused training and offers education programs in Computer & Network Technology, Dental Assistance, Health Services Administration, Information Technology, Massage Therapy, Medical Assistance, Medical Billing & Coding, Patient Care Technology, Pharmacy Technology and Surgical Technology. Anthem College is part of the Anthem Education Group (AEG) family of schools and colleges, which includes Anthem College, Anthem College Online, Anthem Career College, Anthem Institute, Florida Career College (FCC), FCC-Anthem College, Morrison University and The Bryman School of Arizona.