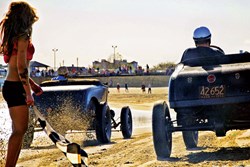 When a brand delivers content so cool that people want to share it with their friends, there's a credibility you can't buy.
The Wildwoods, New Jersey (PRWEB) October 05, 2013
Duck Tape® brand duct tape will sponsor the first-ever live feed of the Race of Gentlemen, an invitation-only race series of pre-WWII cars and motorcycles racing on the beach on the Jersey shore. Last year, Hot Rod Magazine called it "the coolest event in decades."
Duck Tape® is building a real-time social-content campaign around it – with a minimal media budget.
"Our goal with the Race of Gentlemen is to give car buffs some pure, event-driven content that stirs passion and makes them the marketing engine," said David Rodgers, Senior Digital Marketing Manager at ShurTech Brands. "When a brand delivers content so cool that people want to share it with their friends, there's a credibility you can't buy."
The campaign from Duck Tape® includes social-streaming of the races on Oct. 4-6; the campaign culminates in a two-hour live broadcast event – social/Web only – on Sunday Oct. 6 at http://theraceofgentlemenlive.com/. Digital agency Tenthwave handles the campaign, including content production plus social and community management.
Duck Tape® is a cult brand, with 5.5 million Facebook fans and some very successful campaigns that used only social media.
"Sometimes, the best content happens three weeks from right now. This isn't just a tweet or Instagram photo. This is potent, brand-sponsored storytelling. You have to be up for it. You have to get all the moving parts turning on a dime. Because today, there is nothing more valuable than authentic share-worthy content," said Drew Rayman, managing partner of Tenthwave.
The social-content strategy for Duck Tape® has an excellent track record – with Duck Tape® prom dresses, wallets, roses and ingenious crafts. When ShurTech Brands launched Duck Tape® Sheets for crafters, it sampled them with just a posting on Facebook. Word spread so fast that ShurTech gave away 10,000 samples in 16 minutes. (Tenthwave had to increase its bandwidth 1,500% to handle site traffic during the giveaway.)
Born out of the Oilers Car Club, the Race of Gentlemen is run on the beach, as it was done over 50 years ago.
Why the beach? Early testing of mechanical machines were proven and beaten on beaches as it proved to be the safest straight away of the day.
Why Duck Tape®? During WWII, there was a need for a strong, flexible, durable, waterproof tape that could seal canisters, repair cracked windows, repair trucks and help the war effort in general. Duck Tape® was created out of that need, and has been a staple in every man's garage or toolkit ever since—particularly those car enthusiasts who build, repair and race their hot rods and motorcycles.
About Duck Tape® Brand Duct Tape
An American original, Duck® brand is known for its quality and innovation, which now includes a vibrant assortment of hundreds of colors, designs and licenses. Duck Tape® brand duct tape is available nationally at mass merchandise, craft, hardware, home center, food, drug, office, auto and specialty retailers in colors like aqua, fluorescent green, pink, orange and yellow, and designs such as Mustache, Cheetah Kiss and Comic Book.
Duck Tape® is marketed by ShurTech Brands, LLC, which offers an array of tapes, packaging supplies and home products that provide simple, imaginative and helpful solutions for a variety of tasks around the home, school and office. Visit DuckBrand.com for additional product information.
About Tenthwave
Tenthwave is a content-focused, full-service digital agency that transforms the way brands tell their story. Founded in 2010, Tenthwave has become a leader in creating "share-worthy" social content for brands that resonates with – and between – people. The agency has more than 100 employees globally, with offices in New York City, Long Island, Chicago, Detroit, San Francisco, Washington DC., and London. See more at Tenthwave.com.