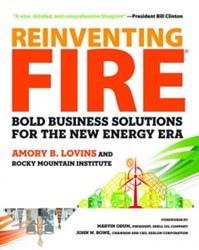 A wise, detailed and comprehensive blueprint.—President Bill Clinton
Burlington, VT (PRWEB) October 04, 2013
The long-awaited energy tipping point—where alternatives work better than oil and coal and compete purely on cost—is no longer decades in the future. It is here and now. And it is the fulcrum of economic transformation.
A global clean-energy race has emerged with astounding speed. The ability to flourish without fossil fuels will define winners and losers in business—and among nations.
In Reinventing Fire, Amory Lovins and Rocky Mountain Institute provide a pathfinding, peer-reviewed roadmap to revitalize outmoded business models, end-run political gridlock, and win the clean energy race—not forced by policy but led by business for profit.
Lovins and RMI also show how integrating market-based solutions across transportation, building, industry, and electricity can energize a 158%-bigger U.S. economy in 2050 that needs no oil, no coal, no nuclear energy, and one-third less natural gas. This would cost $5 trillion less than business-as-usual—omitting fossil fuels' huge hidden costs—and require no new federal taxes, subsidies, mandates, or laws, no new inventions, and no Acts of Congress.
This paperback edition's new introductory material updates global clean-energy developments and RMI's flourishing implementation initiatives in China and beyond.
Whether you care most about profits, jobs, national security, health, or environmental stewardship, Reinventing Fire makes sense and makes money. With clarity and mastery, it charts a pragmatic, entrepreneurial course to a profitable clean-energy future.
Review copies and interviews are available upon request. Please contact Shay Totten, Communications Director, Chelsea Green Publishing. (802) 295-6300. Email: STotten(at)chelseagreen(dot)com.