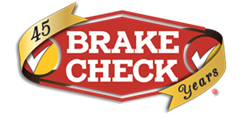 We provide the highest quality parts and service and make it affordable so our customers can maintain their vehicles right.
San Antonio, TX (PRWEB) October 07, 2013
This year marks the 7th anniversary of partnership between Texas' first choice in automotive repair, Brake Check, and the world leader in original equipment shocks and struts manufacturer, KYB. Together, they have given away more than $30,000 in free shock and strut units to Texans needing replacement parts for their vehicles.
This year's promotion runs from Sunday, October 6 through Saturday, November 2. Customers can book an appointment for service on the company's website, or drive in for service, no appointment needed. With the purchase of three qualifying KYB shock or strut units, the fourth unit will be discounted to free. This offer is valid on all KYB product offerings, Excel-G, Strut-Plus, Gas-A-Just monotube and MonoMax premium monotube for trucks, vans and SUVs. Plus, with the backing of KYB's lifetime warranty on all Brake Check installed parts, customers can rest assured that they will have the right parts that will bring their vehicle back to OE vehicle-designed performance.
"We know our customers, and Americans in general, are keeping their cars longer," said David Peveto, Brake Check President & CEO. "We provide the highest quality parts and service and make it affordable so our customers can maintain their vehicles right."
Just like vision that weakens with age, shocks and struts wear over time as the working valves in the units cycle approximately 75,000 times within 50,000 miles driven, which is why automotive repair experts recommend replacing ride control parts every 50,000 miles. The job of these parts is to dampen and absorb vibrations the vehicle experiences while driving and to keep the tires connected to the road. Shocks that are 50% worn can reduce braking ability by as much as 23% because it is no longer keeping the tires 100% pressed to the pavement. Those driving at a speed of 30 mph on one worn unit can see their stopping distance extended by six feet or more.
KYB is the largest manufacturer of original equipment shocks and struts and produces 28% of the world's output, producing original equipment for the aftermarket for both foreign and domestic brands. From common American and Asian brands like Chevy, Ford, Honda and Toyota, to European brands including Mercedes-Benz, BMW and Audi, KYB is the market leader in quality OE part replacement options. In business since 1914, KYB is considered by many as the quality leader in automotive shock absorbers. This partnership was important to Brake Check because they strive to bring Texans quality parts.
About Brake Check:
Brake Check is a family-owned and operated company that has been providing quality repair services to Texans for the past 45 years. The company aims to provide high-quality parts and service with lifetime warranties at low prices for all vehicle repairs and maintenance, including brakes, alignments and oil changes.
For more information about Brake Check, visit http://brakecheck.com/.