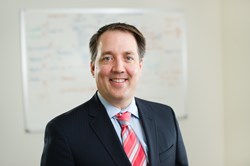 "What I am most proud of is our people. The dedication and passion they bring to every client engagement, makes this an honor that would not have been accomplished without them." -Dr. Trenor Williams, CEO and Co-Founder
Washington, DC (PRWEB) October 04, 2013
Clinovations, the premier physician-led healthcare and management consulting firm, was recognized by the Washington Business Journal as the 10th Fastest Growing Company in the Greater Washington area. Final rankings were revealed at an awards reception held in Washington, DC on October 3, 2013.
"From the beginning, we have worked to provide innovative solutions to help solve our clients' most challenging issues. Our ability to bridge the gap between policy, technology, and providers has truly been a differentiator for us," said Dr. Trenor Williams, CEO and Co-Founder. "What I am most proud of is our people. The dedication and passion they bring to every client engagement, makes this an honor that would not have been accomplished without them."
The Washington Business Journal selected companies based upon average three-year revenue-growth percentage. In addition to high growth rates, companies must be headquartered in the DC area and have had 2010 revenue of more than $2 million and 2012 revenue of more than $10 million in order to qualify for this award.
About Clinovations, LLC
Clinovations is a leading healthcare and management consulting firm offering strategic, clinical, and health IT advisory services with the goal of creating innovative solutions to improve the efficiency, effectiveness, and quality of healthcare for patients. More than half of our extraordinary team consists of physicians and nurses; the remainder is made up of technology leaders, business executives, management consultants, and public policy experts. This year, Clinovations ranked #175 on the Inc. 500 Fastest Growing Companies list, was listed by the Washington Business Journal as a Fastest Growing Small Technology Company, and honored as a Finalist in the 2013 Helios HR Apollo Awards recognizing top employers focused on employee engagement and development. We think strategically, act practically, and deliver innovative solutions.