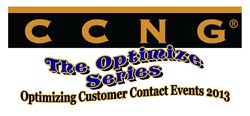 CCNG events enable participants to share ideas and best practices in an intimate setting...
Syracuse, New York (PRWEB) October 07, 2013
CCNG International Inc. is pleased to host the OptimizingCustomerContact.com event in Syracuse, NY on October 10, 2013 at the Crowne Plaza, 701 E. Genessee Street, Syracuse, NY. This event is one of the twelve events in a series hosted by CCNG to bring together local and regional contact center, call center, customer service and customer experience mid-level management to discuss challenges and best practices relating to the People and the Process.
"We have had many different organizations attend the Optimize events this year representing industries ranging from healthcare, to retail, to financial services, to insurance and more…all coming together to meet, connect and share perspectives and experience," says David Hadobas, President and CEO of CCNG International Inc. "Our unique agenda provides for a very interactive day that encourages high level of participation for all attendees."
"CCNG events enable participants to share ideas and best practices in an intimate setting. The speakers are knowledgeable, the topics are relevant and the atmosphere is collaborative." - Leslie Brooks, Director, Kroger Support Center, The Kroger Company
The event in Syracuse will highlight two keynote presentations including:
Five Strategies for Improving Workforce Productivity & Quality - Penny Reynolds, Co-Founder, The Call Center School. The Call Center School is dedicated to the professional development of individuals in the call center industry. We offer a comprehensive curriculum of training programs to fit the needs of all personnel in the call center industry, including frontline staff, supervisors and team leaders, managers and directors, workforce planners, and quality specialists.
Delivering a Remarkable Experience -From Metrics to Empowerment – Karen Reynolds, Director Customer Care, World Travel Holdings. Karen is responsible for her contact center operations based in the Orlando, Florida area. World Travel Holdings is the world's leading cruise agency and award-winning leisure travel company. World Travel Holdings believes by empowering and engaging our employees, customer satisfaction and loyalty will follow. Karen Reynolds will describe why her team knew they had to change the way they managed, and how they moved from a culture focused on metrics and productivity to a culture focused on empowerment and engagement.
Listen to the webcast interview with Karen about her presentation content.
Our event sponsors from the following organizations will provide case study, thought leadership on the topics of the day –
Plantronics
Voice Print International VPI
FurstPerson
Inova Solutions
For details on how to attend and guest pass availability, contact Ginger Graber, ggraber(at)CCNG(dot)com.
View program details at – http://www.OptimizingCustomerContact.com.
CCNG International Inc.
Founded in 1992, CCNG is a member Professional Peer Network (PPN) for contact center and customer care executives, management and leaders. Our mission is to connect colleagues throughout the industry and spread success. The CCNG Network members share best practice insights and experience with peers from top contact center organizations throughout the industry.
Benefits of Joining the CCNG Network:
o Build and expand your network of valuable professional relationships with contact center leaders and award-winning organizations throughout the industry.
o Leverage the knowledge of an industry-wide network of experts and peers.
o Showcase top performing people and programs to build industry recognition and support operational excellence within your organization.
o Explore new ideas. Build more effective programs, raise performance, and reduce risk throughout your organization.
CCNG offers events, programs and resources to all levels of contact center, customer care and customer experience professionals. This is how good contact center organizations continue to get better. For more information about CCNG, please visit http://www.ccng.com. "Like" us on Facebook and follow us on Twitter.
# # #