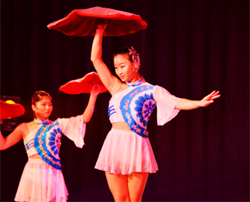 Branson, Missouri (PRWEB) October 04, 2013
The New Shanghai Theatre in Branson, Missouri will host the 1st Annual Shanghai Cultural Festival from October 8 through October 11, 2013. Visitors will enjoy special performances by guest artists from Shanghai, China during the Acrobats of China featuring the New Shanghai Circus regular performances at 8:00pm on October 8th and 3:00 & 8:00pm on October 9, 10, and 11, 2013.
During these special shows performers from Shanghai will demonstrate ancient arts that delight today's modern audiences. From the Shanghai Peking Opera Troupe artists Liu Tao and Lu Lin will showcase their respective roles as the Marshal and female warrior in what is traditionally known as the Beijing Opera.
Also making appearances are Suo Na player Mi Songjie and Erhu player Deng Yuemei from the Shanghai Chinese Orchestra. Suo Na is a Han Chinese shawm (oboe). It has a distinctively loud and high-pitched sound, and is used frequently in Chinese traditional music ensembles, particularly those that perform outdoors. Erhu is a two-stringed bowed musical instrument, and is sometimes known in the Western world as the "Chinese violin". It is used as a solo instrument in small ensembles and large orchestras. A very versatile instrument, Erhu is used in both traditional and contemporary music arrangements, such as in pop, rock, jazz, etc.
In 2009 the Chinese Acrobatic Association called New Shanghai Circus CEO & President Mr Lizhi Zhao a leader in creating Cultural Exchange between China and the United States and proclaimed the New Shanghai Theatre & Circus an International Cultural Exchange Foundation. At that time the Taney County Commission issued a proclamation congratulating the Acrobats of China featuring the New Shanghai Circus for its success in Branson, Missouri as well as its contributions to the community.
To request more information Click Here or call 1-800-432-4202.
In keeping with that spirit of creating unique experiences for our guests, the Acrobats of China featuring the New Shanghai Theatre will offer a Shanghai Cultural Festival each year. The 2nd Annual Shanghai Cultural Festival is scheduled for June 10-13, 2014, and will be in conjunction with our Annual Reunion for Families with Adopted Chinese Children that is held on Friday, June 13, 2014. Opening ceremonies in 2014 will be held on June 10 at 8:00pm.
Since 1998 over 40 Acrobats of China have performed in Branson, Missouri. As the first truly international group to present a permanent show in Branson, the Acrobats of China featuring the New Shanghai Circus presents a revolving line-up of award-winning acts showcasing traditional Chinese dance and human performance art. Each year the show adds new performers and typically changes troupes at least twice. In 2005 the Acrobats of China moved into their own theater, the New Shanghai Theatre location at 165 St Highway 165, just south of Hwy 76. The New Shanghai Theatre in Branson hosts an Annual Reunion for Families with Adopted Chinese Children; an Annual Shanghai Cultural Festival; an Annual Spring Educational program for area schools; and other unique events. In addition to performing shows at their Branson theater, the New Shanghai Circus also tours worldwide and has had extensive play dates on Broadway, in Greece, France, Canada, Hawaii, continental US, etc.
Founded in 1955, Shanghai Peking Opera Troupe is of distinct features of Shanghai regional culture, and has created and performed a large group of outstanding Peking Opera repertoires, cultivating a great number of art talents who respect art and dare to innovate. Shanghai Peking Opera has not only carried forward the age-old techniques of the traditional operas, but also performs classic Peking Opera repertoires for the audience. Meanwhile, with art creativity, it has adopted Western classics and introduced them to the stage of Peking Opera. The Tragedy of Prince ZIDAN and NOTREDAME it has newly created and rehearsed tell the love and hatred and complicated emotions in Western stories with Peking Opera, and have been warmly welcomed by the Chinese and foreign audiences, better demonstrating the inclusiveness and creativity of Shanghai regional culture.
Founded in 1952, the Shanghai Chinese Orchestra (SHCO) is the first big-scale modern Chinese orchestra in China. SHCO is famous for the harmonious cooperation among its members and their excellent mastering of all kinds of works. SHCO plays an important role in the development of Chinese music. Located in Shanghai, its performance format and repertoire include big-scale Chinese orchestral works as well as mid-scale and small-scale traditional characteristic ones, such as stringed and wind instrumental pieces, Cantonese music, plucked-strings instrumental ensemble, percussion instrumental ensembles and so on. SHCO is also actively engaged in composition, which contributes to a rich repertoire of the orchestra. Among those compositions, many have been awarded in Shanghai Spring International Music Festival and Shanghai International Art Festival, and are also widely performed at home and abroad. SHCO itself has performed in more than 80 cities in China and also toured to more than 30 countries and regions in the world. SHCO was hailed as 'the most beautiful Chinese Orchestra'. The Orchestra often performs for the presidents and leaders of other countries when they visit China. In 2001 and 2003, SHCO performed at two major Chinese New Year concerts, The Year of Snake New Year Concert and The Year of Goat New Year Concert at the Golden Concert Hall in Vienna, which was a big hit in Europe. SHCO is frequently invited to perform at important events at home and abroad, such as the 2006 Shanghai Cooperation Organization summit, the ASEAN summit, the 2007 Special Olympic Games, the 2008 and 2010 Shanghai National Day Concert, the 2010 Shanghai EXPO Week, etc.