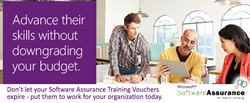 I believe this webinar on the importance of using SATVs will help organizations directly with their bottom line, getting their staff trained while growing their business.
New York, NY (PRWEB) October 07, 2013
NetCom Learning is excited to announce an upcoming complimentary webinar to be given by Microsoft Sales & Deployment Executive Kristine Schaefer on how companies can utilize Microsoft Assurance Training Vouchers (SATVs) for free or low cost training. The webinar, entitled "SATVs: Increase Productivity with Free Microsoft Training" will be held Thursday, October 17, 2013 from 1:00 – 2:00 p.m. EST. Information will be provided on the use and redemption of Microsoft vouchers, a preview of the SATV Voucher Portal will be included in addition to an introduction to Microsoft corporate training available through NetCom Learning. SATV vouchers are provided by Microsoft to organizations that purchase volume software licensing. Statistics tell us that each year thousands of training dollars are left unused by organizations that fail to utilize their vouchers at no cost. NetCom Learning and Microsoft are offering this webinar in an effort to educate organizations about the voucher program helping them to get the best return on their software investment with Microsoft and getting their staff up to speed on current technology. In a slowly growing economy, getting the best deal on employee technology training can mean the difference between company failure and success.
"I believe this webinar on the importance of using SATVs will help organizations directly with their bottom line, getting their staff trained while growing their business," said Russell Sarder, CEO of NetCom Learning. "Having your staff current in the latest Microsoft technology is directly related to sales and company growth. If your organization purchased a volume software license from Microsoft and you are not using your training vouchers you are losing money on your investment," said Sarder.
What the webinar will cover:

Increase productivity through corporate training
Maximizing your Microsoft Software Investment
Review Software Assurance (SA)
What are the SA Training Vouchers?
Review 'how to' create a voucher
Preview/demo the SATV Voucher Portal
Speakers
The upcoming SATV webinar is presented by Kristine Schaefer, Microsoft Sales and Deployment Executive for the East Region Learning Partners Division. Kristine is a seasoned sales professional with more than twenty five years of experience in industry sales and account management. In her current position, Kristine is responsible for working with top Microsoft learning partners and delivering and executing key Microsoft partner programs in the East Region. She has also worked as a Partner Account Manager and a Major Account Manager at Microsoft.
Microsoft Assurance Training Voucher Program
NetCom Learning, 2013 Microsoft Learning Partner of the Year finalist and Microsoft Gold Certified Partner, participates in the Microsoft Assurance Training Voucher Program ensuring that companies can earn the full return on their Microsoft investment and put these SATV savings toward Microsoft training at NetCom. When a company purchases a volume software license with Microsoft, they are issued SATV vouchers which can be redeemed at NetCom Learning for Microsoft training that will keep your organization current in the latest information technology. Employee training is necessary to keep an organization vital and growing but it can be expensive. By using Microsoft Software Assurance Training Vouchers, companies are ensuring that they are getting the best ROI on their software investments. These SATVs are issued by Microsoft so that their volume licensing customers will be familiar with the software applications they have purchased. A typical Microsoft voucher has a value of one to five days worth of training. According to the latest statistics, more than $80 million dollars of complimentary training opportunities such as SATV's issued by Microsoft went unused. SATV vouchers do expire when your current coverage ends so be sure and use your benefits in a timely manner.
As a Microsoft Gold Certified Partner, organizations can use SATVs at NetCom Learning toward Microsoft training. Vouchers can be redeemed toward a variety of Microsoft coursework at NetCom Learning including Dynamics GP, Exchange Server, Lync Server, SharePoint, SQL Server, Virtualization, Window 7, Windows 8, and Windows Server 2012.
Upcoming Microsoft Training Events
October 7 – MCSA: Windows Server 2012
October 21 - MCSE: SharePoint
October 21 - Programming in C# with Microsoft .NET Framework 4
November 4 – MCTS and MCITP: Windows 7 Configuration and Desktop Support Technician
November 4 – Microsoft Windows PowerShell 3.0
November 18 – MCSE: Messaging (Exchange Server)
December 2 - MCTS: .NET Framework 4, Data Access and Web Applications
December 9 – MCSD: SharePoint Applications
December 16 – MCSE: Server Infrastructure
January 6 – MCSE: Communication (Lync Server)
To learn more about Microsoft training events, visit http://www.netcomlearning.com/vendors/2/Microsoft-Technical-training.html?advid=412 or contact us at info(at)netcomlearning(dot)com or call us at 1-888-563-8266.
Sign up for the complimentary webinar on how to maximize your training budget with Microsoft Software Assurance Training Vouchers http://www.netcomlearning.com/webinars/12396/Free-Webinar-SATVs-l-Increase-Productivity-with-Free-Microsoft-Training-training.html?WebinarID=224&adivd=412.
About NetCom Learning
NetCom Learning is an innovative leader in IT, business and executive training to companies, individuals, and government agencies. Since its inception in 1998, NetCom Learning has trained over 80 percent of the Fortune 100, serviced over 45,500 business customers, and advanced the skills of more than 71,000 professionals through hands-on, expert-led training, with the organization maintaining an average instructor evaluation score of 8.6 out of 9. NetCom Learning was recognized by Microsoft Corporation as its Worldwide Training Partner of the Year and named thrice to Inc. Magazine's list of fastest growing private companies in America. The organization was also recently named to the 2012 Top 20 IT Training Companies by TrainingIndustry.com and was named "Company of the Year" by the American Business Awards.
The purpose of NetCom Learning is to promote the values of lifelong learning.