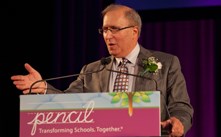 "PENCIL has been a critical force in channeling business volunteers' skills, insights, and passion to help schools and students for nearly two decades," said Chatzinoff.
(PRWEB) October 06, 2013
New York, NY: PENCIL, the New York City-based leader in creating innovative and impactful models of collaboration between schools and businesses, announced today that Howard Chatzinoff, Partner, Weil, Gotshal & Manges LLP, has been elected Chair of the organization's Board of Directors. He succeeds JetBlue Airways President and CEO Dave Barger, who will continue to serve on PENCIL's Board of Directors.
"With his vast legal experience, long-time personal involvement in PENCIL, and sheer passion for education, Howard Chatzinoff is the ideal person to carry on PENCIL's important legacy, and to lead the organization as it deepens and expands its work to improve school and student performance in New York City and beyond" said Barger. "It has been a true honor to help lead PENCIL these past two years and as a member of the Board of Directors I look forward to supporting Howard and the entire organization in the years ahead."
Chatzinoff has been one of PENCIL's most ardent supporters and a valuable champion of PENCIL's work for more than 15 years. He has served as a Vice-Chair of PENCIL's Board for the past two years, and as a Board Member for 12 years. He is a "PENCIL Partner" to MS 224 in the Bronx, where he and his colleagues are working to boost student engagement through mentoring activities and to help the school's leadership plan for the future.
An experienced lawyer in mergers and acquisitions, Chatzinoff has worked with major media companies like CBS and NBC Universal, and has represented General Electric in some of its most significant transactions, including in its sale of NBC Universal to Comcast. He has forged connections between dozens of industry leaders and PENCIL over the years; their work has gone on to affect thousands of New York City public school children. Last May, Chatzinoff received the PENCIL Public School Champion Award at PENCIL's Annual Gala for his commitment and contributions to PENCIL. Weil also serves as PENCIL's pro bono legal counsel.
Chatzinoff said that he was honored to be entrusted by the Board to lead one of New York City's most prominent and impactful non-for-profit education organizations, especially as it embarks on a new strategic plan.
"PENCIL has been a critical force in channeling business volunteers' skills, insights, and passion to help schools and students for nearly two decades," said Chatzinoff. "We have been very fortunate to have Dave Barger's guidance and experience as we forged a path for PENCIL's future, and I am deeply honored and committed to realizing that plan and delivering even greater results for our schools and students."
PENCIL President Michael Haberman said, "I could not be more pleased that the Board elected Howard to lead PENCIL through its next phase of growth, and I'm excited to work alongside him and the rest of our leadership to continue the standard that Dave set for business engagement in our schools," said PENCIL President Michael Haberman.
"As a consummate connector of people, and a steadfast and vocal champion of our work, Howard truly embodies PENCIL and our belief that when schools and businesses join forces, we can create better schools and opportunities for our students," Haberman continued.
As Board Chair, Barger led the organization after he assumed the reins from Lisa Belzberg, who founded PENCIL in 1995 and is Chair Emerita of the organization. During his two-year tenure, he helped PENCIL raise brand awareness and recruit new volunteers through a citywide, multimedia advertising campaign that was created and produced pro bono by PENCIL Partner Ogilvy. Recently, Barger and PENCIL completed a strategic planning process that sets the stage for PENCIL to deepen and broaden its impact and reach on schools and students. Barger is also a PENCIL Partner to Aviation High School in Long Island City, where he and Principal Deno Charalambous are providing students with workplace exposure, skills, and experience through job shadowing and internships. JetBlue employees are engaged in five PENCIL Partnerships throughout Queens, where the company is based.
About PENCIL
PENCIL is the leader in creating innovative models of collaboration between businesses and public schools. Working at the intersection of school needs and business expertise, we bring together the best ideas, talent, and resources across sectors to improve school and student performance. We forge and guide relationships between business and school leaders, who bring their collective energies to address critical school challenges in the areas of school leadership, family engagement, student engagement, school infrastructure, and college and career readiness. We also provide high school students with comprehensive career development and tangible work experience as PENCIL Fellows. By researching the lessons we learn working in individual schools and studying our Partners' solutions and successes, we develop best practices and flexible models that can be replicated, adapted, and scaled in schools throughout New York City and across the country.
For more information about PENCIL, visit our website at http://www.PENCIL.org or call 646-638-0565.
Media Contacts:
Ben Lebeaux
Communications Manager, PENCIL
212-524-2381
blebeaux@pencil.org
Sara Clough
Senior Director, Marketing and Communications, PENICL
212-524-2393
sclough@pencil.org