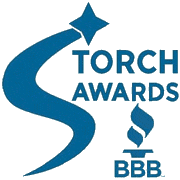 ...KMG Gold is happy to report that they received dozens of nominations from happy customers.
(PRWEB) October 14, 2013
KMG Gold Recycling has been named a finalist in the BBB's Marketplace Excellence category, an award that the company won in 2011 and was named runner-up for in 2012. Winners will be announced on the night of the awards ceremony on October 24.
Businesses have the opportunity to become finalists when satisfied customers fill out a nomination form asking them to describe how a business went above and beyond the norm. It only takes one form to be nominated but KMG Gold reported that they received dozens of nominations from happy customers. Along with the nomination forms, a company also has to formally apply in writing for the award, detailing what makes their business worthy of such a prestigious award, how they serve customers along the BBB's mandate of trust and integrity, and how the company makes a difference in the community as well as in the lives of their employees.
KMG Gold Recycling buys, recycles, and refines all precious metals including gold, silver, platinum and palladium. Michael Gupton started KMG Gold as an internet gold buyer in 2007 at http://www.kmggold.com, and opened his first location in Winnipeg in 2010 and has now expanded into the USA with a location in Grand Forks, ND.
For more information on KMG Gold Recycling and its commitment to help educate the consumer, please visit us online or call us toll free at 1-877-468-2220 or at 204-452-4653.
Media Contact:
Michael Gupton
President of KMG Environmental Inc.
204-452-4653
MGupton(at)kmggold(dot)com
KMG Gold – The Original Gold Buyer