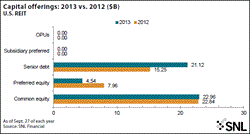 (PRWEB) October 08, 2013
Common equity offerings aggregated $22.96 billion through Sept. 27, senior debt totaled $21.12 billion and preferred equity accounted for $4.54 billion. In the prior-year period, common equity offerings totaled $22.84 billion, senior debt accounted for $15.25 billion and preferred equity reached $7.96 billion.
A handful of REITs completed common stock offerings between Sept. 14 and Sept. 27. Altisource Residential Corp. led the period with a $360.9 million offering on Sept. 25. The company plans to use the proceeds for various purposes including the purchase of subperforming and nonperforming residential mortgage loans, renovation of single-family rental properties and funding for the company's investment in NewSource.
The next-largest REIT common offering during the period was attributed to Chatham Lodging Trust, having completed a $59.6 million offering, also on Sept. 25. The lodging company plans to use the proceeds to repay debt under its senior secured revolving credit facility and to fund a portion of the Bellevue Residence Inn acquisition. Remaining proceeds will be used to invest in additional hotel properties.
Winthrop Realty Trust ranked third, having completed a $31.5 million common stock offering Sept. 25. The company intends to use the proceeds for future acquisitions and/or general working capital purposes.
U.S. REITs did not complete any new preferred offerings from Sept. 14 to Sept. 27. The most recent preferred offering was completed by Weyerhaeuser Co. on June 18. REIT veteran Ralph Block recently suggested that REIT preferred offerings will likely not pick back up until the markets and bond yields stabilize.
For the full report, please visit: http://www.snl.com/InteractiveX/Article.aspx?cdid=A-16788846-11044.