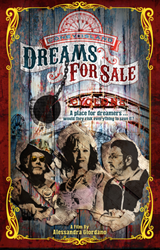 Los Angeles, CA (PRWEB) October 10, 2013
Coney Island, the once magnificent "Playground of the World" has survived many battles, but now faces its greatest threat: corporate greed. In an epic, three year journey, film maker Alessandra Giordano captures the journey of an outraged community determined to protect the future of the beloved park from an unscrupulous developer and a group of misguided local politicians. Center stage in this struggle is Dianna Carlin, owner of the fabulous Lola Star Boutique, and newly turned political activist.
When aspiring director and producer, Alessandra Giordano, first experienced Coney Island Amusement Park, her imagination was captivated by how to capture the magic of the place on film. In her own words, she describes the feeling she got on her first visit:
"The first time I stepped foot in Coney Island, one summer afternoon 5 years ago, the city of New York seemed to vanish, replaced by a new chaotic, unpredictable, and fascinating world."
I was immediately captivated by the raffish charm of the place, and its extravagant characters seemed to rightfully belong to a movie set. And there was something else, something intangible – perhaps the spirit of Coney Island's glorious history still lingering in the air."
Her plans to create a short film changed when she discovered that the park held unexpected secrets, and a struggle between big corporate money and a few courageous individuals attempting to preserve the historic authenticity and character of Coney Island. Five years later, her first feature length documentary was born.
Giordano states, "It is an important story, as it shows how seemingly powerless citizens and small business owners can band together through grass roots activism in a political arena increasingly dominated by corporate influence in order to gain a democratic compromise that satisfies all parties. What kept me going during times of hardship was the love and admiration for Coney Island and its community, especially people like Dianna, whose courage and determination in the face of adversity is a testimony to the resilience of the human spirit."
The documentary brings to light the complex political struggles that are happening in Coney Island behind closed doors. According to the documentary, the New York City administration and a major developer in the region have a lot invested in the redevelopment of Coney Island. Unfortunately, their visions are in contrast with each other, and with those who have made a life working at the amusement park. The plot thickens as a roller coaster of political back-room deals unfold, and a community of amusement and business owners find themselves caught in the middle of it all.
Viewers will be captivated, wondering whether or not this legendary American icon and an entire way of life will survive in the face of ruthless real estate development. The film is scheduled to debut at the La Femme Film Festival on October 18th in Los Angeles, CA. The screening will be held at LA LIVE Regal Theatre Stadium 14, Downtown Los Angeles at 2 pm.
About Alessandra Giordano (producer, director, camera)
Alessadra has a degree in film production and photojournalism from Guildhall University, London. She began her carrier in England as a free-lance photographer, and then made a leap to television. She now lives in the US and works as a free-lance shooter producer on documentaries and reality TV shows. She has recently worked as field producer for "The First 48", an American documentary television series on A&E, focusing on the real-life world of homicide investigators.
The crew working on Coney Island Dreams for Sale was made up of a talented and award-winning group, including creative consultant, Doug Blush. His film OF TWO MINDS, co-directed with his wife Lisa, is an intimate look at three people living with bipolar disorder, and won the 2013 Prism and Voice Awards. It is now in release by Docurama/Cinedigm on DVD and digital. Doug and his wife and film partner, Lisa Klein, own MadPix, Inc, an independent production, post production and film consulting company in Los Angeles.
The official sales representative for the film is United Films. More information on the issues featured in the film, and the production of the documentary itself at http://dreamsforsalethemovie.com/.
Contact:
Alessandra Giordano
305-978-9491
Info(at)dreamsforsalethemovie(dot)com
https://www.facebook.com/dreamsforsalethemovie
https://twitter.com/coneyislandfilm