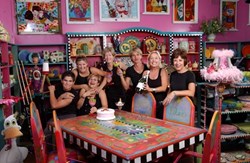 Scott's Marketplace is proud to be an avid supporter of the local Arizona business community.
Scottsdale, Arizona (PRWEB) October 08, 2013
Scott's Marketplace, the place to shop local businesses online, will be hosting a Ladies' Day Out event at Two Plates Full, an independent business located in Scottsdale, AZ.
The shopping event will be held on Saturday, October 19, from 2-5 p.m. to celebrate the grand reopening of the business, as well as highlight the importance of choosing local businesses over chains.
Ladies' Day Out attendees will be able to shop for unique items that range from locally made art pieces and jewelry to home décor and clothing while enjoying complimentary refreshments and gourmet snacks.
During the event, a $100 gift card to the store will be given away and attendees will receive exclusive event-only discounts and sales.
The grand reopening for Two Plates Full comes out of necessity, not choice. The business was recently forced out of the location they had been in for many years by an out-of-state developer who wanted to turn the Borgata, a Scottsdale shopping-center staple, into condominiums.
"My customers were asking if I was going to close, and I was just not ready to give it up yet," said Two Plates Full owner Terri Weisz.
Weisz and her fellow business owners began a campaign to fight the issue and the impending zoning vote from the city, even creating a website that chronicled the issue as it progressed.
While the stores in the center fought valiantly for their businesses, the re-zoning vote put forth by the city passed, and the shopkeepers were suddenly out of luck.
After considering closing completely, Weisz decided she would reopen in a new location and hoped her customers would follow.
"This cash-mob-style event was created to help Two Plates Full spread the word about their new location. Hosting cash mobs, like the Ladies' Day Out event, is a great way for us to bring customers together to infuse local businesses with money," said Scott K. Curry, founder of Scott's Marketplace.
"Scott's Marketplace is proud to be an avid supporter of the local Arizona business community. Helping small business owners overcome the many varied challenges they are presented with is just one way we can show our devotion to keeping independent businesses, like Two Plates Full, thriving," said Curry.
About Scott's Marketplace
Scott's Marketplace was started by small business owner Scott K. Curry, who had a vision of creating an online marketplace where local businesses could easily sell their products and consumers could shop online for local goods. Scott's Marketplace is launching in fall of 2013. To learn more, visit ScottsMarketplace.com or call Jill Hoffman at (480) 420-2700.
About Two Plates Full
Two Plates Full was born in 1989 and is a fun, colorful, whimsical, handcrafted art gallery stocked with work from American artists. Along with art, the store is filled with unique pieces that range from handcrafted furniture and Mexican glassware to purses made of recycled rubber and other eclectic finds.