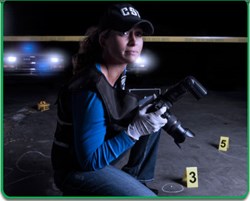 "Students in the program will learn the tools to either help them with crime scenes as a law enforcement professional or movie into a crime scene investigation role.
Denton, Texas (PRWEB) October 07, 2013
The Certificate in Crime Scene Investigations, which is TCOLE approved, begins October 11, 2013 at Crime Scene City, a simulated community on the grounds of the University of North Texas in Denton.
The academy is dedicated to providing the highest level of crime scene training taught by industry professionals with real-world experience in the field. The curriculum provides a strong knowledge base with significant hands-on training in a variety of areas including fingerprint processing, digital photography, assault and death scene investigations, trace and impression evidence, firearm evidence and courtroom testimony. This academy allows individuals to take all of the courses required for certification in crime scene investigation without having to wait months in between classes. The certificate program is open to both law enforcement as well as individuals wanting a career in Crime Scene Investigation.
"This certificate program combines both the academic instruction along with the practical fieldwork that's so necessary in this field. Students in the program will learn the tools to either help them with crime scenes as a law enforcement professional or move into a crime scene investigation role," says Andra Lewis, Director of the North Texas Forensics Academy and professor, University of North Texas Department of Criminal Justice.
The entire program offers 240 of live instruction over five months. Classes are held Friday evenings from 6 p.m. to 9 p.m., and Saturdays from 9 a.m. to 5 p.m. Instructors are seasoned experts with practical field experience.
Core classes in the Forensics Academy include:
Criminal Investigation examines the origin of criminal investigation and traces its development.
Crime Scene Investigation provides a view into the role of investigators, the identification, collection and preservation of evidence, processing the scene for latent prints and use of an alternate light source.
Basic Fingerprint Comparison Techniques examines the methodology involved in comparing friction ridge skin.
Ten-Print Fingerprint Course provides students the ability to take inked rolled prints of a subject, understand the scientific concepts, and demonstrate the ability to individualize a known inked print to a known/unknown inked print.
Forensic Photography covers the techniques used in photographing crime scenes and evidence.
Trace Evidence examines how to properly identify, collect, preserve and package trace evidence.
Impression Evidence examines the types of impression evidence a crime scene investigator may encounter.
Crime Scene Sketching introduces sketching including how to make a rough sketch, a finished sketch and different measurement methods.
Forensic Biology and Sexual Assault Investigations provides students the knowledge of how to properly investigate sexual assault cases.
Death Scene Investigation provides students the basic knowledge of how to handle a death scene investigation.
Firearms Evidence Analysis covers the examination of firearms related evidence.
Courtroom Testimony provides students with an understanding of the basic factors that create effective testimony.
For more information, visit http://www.pdi.org or call 866.374.0876.
About The Professional Development Institute
The Professional Development Institute (PDI), located at the University of North Texas, is a 501(c)(3), not-for-profit education corporation that provides versatile, innovative, cost-effective training programs to professionals worldwide. PDI is recognized as the world's leading provider of oil and gas accounting education as well as training programs for virtually all professional services areas. Hundreds of companies and more than a half-million people have teamed up with PDI for training solutions over the past 35 years. Additional information about PDI can be found at http://www.pdi.org.