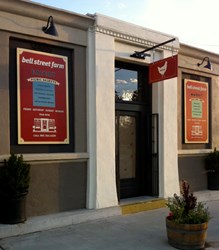 Santa Barbara, CA (PRWEB) October 07, 2013
The Foodie Wine Tour will feature the farm-to-table foods that Bell Street Farm has become celebrated for. Owner and creative mastermind, Jamie Gluck of Bell Street Farm, is hosting this informational wine and food pairing in his downtown Los Alamos restaurant. The intimate pairing will also feature Gavin Chanin's award-wining wines with Gavin himself present to explain each pairing.
The Foodie Wine Tour is the latest presentation of the Grapeline Signature Series. These are occasional wine tasting outings incorporating wine country's more heralded experiences and offerings. Past Signature Series tours included the Pinot Lovers Tour, featuring many of the most renowned Pinot Noir winemakers in the Santa Barbara region, and the Music in the Vines Tour in Temecula Wine Country, presenting live performances by local winemakers with backgrounds in the professional music industry.
Bell Street Farm Eatery and Market, in historic Los Alamos, features local farmers' produce and fresh-baked breads as well as a wide selection of Central Coast wines by the bottle or glass. Owner Jamie Gluck uses a French Rotisol Rotisserie to produce the slow roasted dishes he has become known for, such as Huntsinger Free-Range Chicken and Hot and Crispy Pork Belly Wrapped Shoulder. The Market displays farm-to-table themed novelties from local olive oils to cookbooks.
The tour will stop at three tasting rooms in the Santa Ynez Valley with the lunch pairing falling between the first and third winery. The first stop on the tour will be Curtis Winery where guests will get to take a look at behind the scenes activities at the peak of harvest. Curtis specializes in Syrah, Grenache, Viognier and other artisan Rhône-style wines from Santa Barbara County's Santa Ynez Valley. Curtis is one of California's first wineries dedicated exclusively to Rhône-style wines.
Gavin Chanin began making wine as a harvest intern at AuBon Climat and Qupé and was quickly moved up to Assistant Winemaker for those labels. At 25, Chanin was named one of Forbes "30 under 30" in food and wine, then in 2012 he was listed as a "winemaker to watch" by San Francisco Chronicle. His winemaking style is "rooted in representing each individual vineyard by emphasizing balance, finesse, and complexity." Chanin explains that "None of my wines are flukes." He has completed vintages in New Zealand and South Africa, including a significant amount of travel through Burgundy and Italy. With a deep emphasis on Chardonnay and Pinot Noir, Chanin Wine Co was launched in 2007 when Gavin Chanin was only 21.
The last two wineries where the tour will be enjoying flights of wine will be Roblar Winery and Sustone Winery. Roblar Winery is grand rustic lodge-style winery. Their estate-grown varietals include Sauvignon Blanc, Merlot, Sangiovese, Grenache and Semillon, but they also source grapes from all over California. This allows the winemakers to bring many different varietals to the Santa Ynez Valley from warm and cool climate areas for plenty of variety.
Sunstone Winery is a boutique winery named after the vineyard estate's exposed sun-dappled shale and stones. Their tasting room is reminiscent of some of the small wineries in the Provencal French countryside with gorgeous courtyards and picnic grounds surrounded by vineyards. This provides the perfect location for the Foodie Wine Tour guests to experience the world-class Bordeaux and Rhone style wines.
Grapeline Wine Tours began in Temecula in 2002, and expanded to Paso Robles in 2004 and Santa Barbara in 2007. Serving more than 25,000 wine tasters annually, it is the largest wine tour company in Southern and Central California, and also the top rated wine tour company on popular user-review sites Yelp and TripAdvisor.
The Foodie Wine Tour departs at 10am from all local hotels and concludes at approximately 4:30pm. Pricing is $129 per person from Solvang and Buellton or $149 per person from Santa Barbara, all inclusive. Reservations are required.