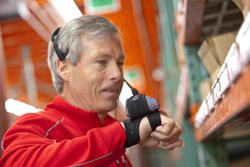 Woodridge, IL (PRWEB) October 07, 2013
Numina Group's Pick Execution™ platform provides speaker independent voice picking requiring zero voice training. Coupled with hands free scanning to increase accuracy and productivity, Numina Group's typical voice picking implementation results in 35-50% gains in picking productivity, and picking accuracy rates of 99.9% or higher. Numina Group's latest voice engine enhancement deploys top Speech Lydia® 7.0, the industry's leading speaker independent voice pick system, and provides the highest level voice recognition on the market.
Numina Group leads the industry in cutting edge solutions to automate labeling and document insertion. Their full family of print and apply labeling solutions can be adapted to automate packing operations for improved throughput and reduced manual labor. Numina Group will also be presenting Panther Industries' all-electric e34. This system automatically prints and applies a combination shipping label and packing list on a single label, in one step.
The e34 further expands Numina Group's One Step™ line for automating the application of packing slips, document insertion, and auto apply labeling. One Step™ Plus automatically applies a full 8.5" x 11" pack sheet underneath a removable compliance shipping label, and provides a rapid return on investment for parcel distributors with full packing sheet requirements. One Step™ Plus also includes an option to insert full 8.5" x 11" packing sheets into open cartons on integrated void fill insertion and automated carton taping lines.
In addition to literature and packing documentation automation, Numina Group provides the technology and expertise to automate the entire order fulfillment pick, pack, and ship process of printing, folding, inserting, and applying documents to either the inside and/or outside of the carton. Conveyor systems with in-line automation, including print and apply labeling, combine with Numina's LitPack™ to process 700 or more orders per hour in B2B or B2C ship operations. Numina Group's technologies reduce over 50 seconds of labor from every order shipment.
About Numina Group:
Numina Group has over 27 years of experience in Define, Design, and Implementation of warehouse and distribution automation expertise. Numina Group's RDS™ (WCS) family of automation technologies delivers process improvements for manufacturing and distribution operations worldwide. Services include consulting/design, control systems, voice directed picking, pack and ship order fulfillment automation, and providing turn-key supplier automated distribution operations that eliminate bottlenecks, excessive labor and improve distribution operation profitability.
To learn more about Numina Group go to http://www.numinagroup.com or contact Joe Mullen at sales(at)numinagroup(dot)com or 630-343-2622.