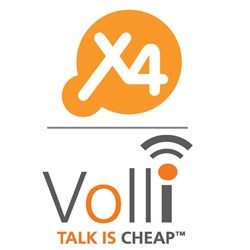 Volli fills a need our sales partner base has been clamoring for in the SIP space.
Columbus, Ohio (PRWEB) October 08, 2013
X4 Solutions, an award winning master agency based in Illinois, and Volli Communications, an Ohio based leading provider of business telephony solutions for SMBs and Enterprises, entered into a strategic partnership. This new agreement enables X4 Solutions to provide affordable SIP trunk solutions nationwide to businesses of all sizes.
Volli Communications focuses on delivering SIP phone services to business customers who typically need between two and 20 lines. By replacing more costly traditional phone lines with NetLines™, the branded SIP service from Volli Communications, most businesses can save an average of 60 percent. "In today's economy, small businesses are interested in saving money. With NetLines™, we're able to save customers money, provide outstanding call quality and offer additional features to enhance business productivity," said Terry Madden, Chief Operating Officer for Volli Communications.
"When we looked at what it would take to move the Volli Communications Partner Program to the next level, we knew we would need a strong anchor partner. There was no doubt in our minds that we wanted to partner with X4. We believe X4's internal staff and external agents are the best in the business, and we are thrilled to be able to work with them," said Darren Jordan, Volli Communications Channel Director.
"We are excited about adding Volli to our portfolio," stated Curt Allen, President of X4 Solutions. "Volli fills a need our sales partner base has been clamoring for in the SIP space. The tools and processes that the team at Volli has developed will pay huge dividends for our partners and will facilitate new business. Most importantly, Volli has the people to get it done. Darren Jordan is a known entity for us all and will ensure our partners get taken care of."
###
About X4 Solutions
X4 Solutions, one of the industry's largest master agencies, offers agents a full suite of products and services in voice and data, energy and back office software, backed by pre/post-sales support and agent service. For more information, visit http://www.x4solutions.com.
About Volli Communications
Volli Communications is a leading provider of SIP and Hosted PBX solutions. With two simple product line offerings – NetLines and NetOffice – Volli Communications has introduced affordable phone service for SMBs nationwide. Volli Communications is committed to making unified communications easy to understand and amazingly inexpensive. Volli Communications is an affiliated company of VolunteerEnergy, one of the largest retail energy suppliers in the Midwest. For more information, visit http://www.vollicomm.com.
Contact:
Darren Jordan
Channel Director
Volli Communications
Tel: (614) 558-1055
Email: djordan(at)vollicomm(dot)com