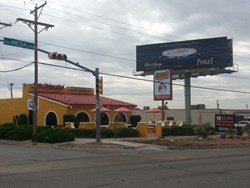 I like being my own boss and having the ability to make quick decisions.
El Paso, Texas (PRWEB) October 10, 2013
After 16 years as an electronics engineer, Francisco Lopez decided to go into business for himself. With the assistance of Guidant Financial, Francisco used a retirement account to fund the purchase of the restaurant, and in late August, Paco's Chicken and Beef opened its door under new ownership.
One of the things that drew Lopez to the restaurant business is the reliable income that comes from offering great food at reasonable prices; Lopez is not only a new restaurateur, he's also part owner of a solar energy start-up. While he anticipates cutting the deal that helps the solar business take off, he's enjoying feeding El Paso residents delicious char-broiled chicken and beef.
When asked what, so far, is his greatest joy of business ownership, he says, "I like being my own boss and having the ability to make quick decisions."
Paco's is open daily from 11:00 a.m. to 9:00 p.m. and is located at 6591 North Mesa in El Paso.
###
Paco's Chicken and Beef
Paco's Chicken and Beef has been serving up tasty and reasonably priced charbroiled chicken and beef tacos, fajitas, burritos, quesadillas and more in El Paso since 2011. To reach Paco's, dial 915-581-7171.
Guidant Financial
Guidant Financial helps individuals create the life they want with innovative small business financing. They are the premier provider of Rollovers as Business Start-ups (ROBS). Guidant's services allow people from all walks of life the freedom to make time-sensitive investments using their existing retirement funds without taking a taxable distribution or getting a loan, in addition to offering traditional funding options such as SBA loans and unsecured credit. For more information on small business financing, visit Guidant online at guidantfinancial.com.