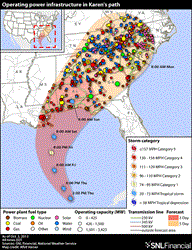 (PRWEB) October 06, 2013
After an unusually quiet hurricane season, the first storm to threaten the Gulf Coast this year has arrived. Tropical Storm Karen formed the morning of Oct. 3 and appeared headed for landfall, probably in Louisiana.
Excerpt:
More than 5.9 million people live in the counties included in the three-day forecast, according to SNL data. As of about 10:30 a.m. ET on Oct. 4, when the storm had winds nearing 60 mph, projections were for landfall to occur in southeastern Louisiana in the early morning hours of Oct. 6, with the core of the storm to be crossing into central Georgia early Oct. 7. Chances of the storm increasing to hurricane strength were lowered between the afternoon of Oct. 3 and the morning of Oct. 4, according to the forecasting service Weather Underground.
Louisiana Gov. Bobby Jindal, Mississippi Gov. Phil Bryant and Florida Gov. Rick Scott all declared states of emergency on Oct. 3, and utility companies are bracing for the potentially heavy rains, strong winds and storm surge.
To read on, visit http://www.snl.com/InteractiveX/Article.aspx?cdid=A-25294295-11819