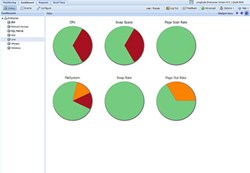 Larger data centers and more IT infrastructure create complex challenges. IT monitoring software must detect degraded performance issues very rapidly.
Braintree, MA (PRWEB) October 08, 2013
Heroix, developer of application performance and network monitoring software, has introduced Heroix Longitude for very large-scale IT systems monitoring. The new release of the software also offers greater reporting capabilities for VMware, providing users important information on a broader range of critical metrics.
Companies that must monitor thousands of servers, network devices and the associated applications can easily leverage Longitude because of its enhanced efficiency and noticeable speed. The lightning fast performance is evident even in the largest data centers. Organizations with significant IT resources can rely on Longitude to scale up to monitor large enterprise environments.
"As the amount of data and the need to manage it mushrooms, enterprises must add more IT resources," noted Dick Levin, VP of Development, Heroix. "Larger data centers and more IT infrastructure create complex challenges. IT monitoring software must detect degraded performance issues very rapidly in order to keep resources available and meet SLA requirements."
By 2020, IDC predicts that the digital universe will "grow by a factor of 300." IDC expects it to reach "40 trillion gigabytes."* Heroix has made it possible for Longitude users to cope with this surge in data by adding significant speed and overall performance improvements to the interface.
Heroix has also added new reporting and other capabilities to the Longitude VMware Edition:

VMware knowledge base.
Historical performance reports.
Zombie VM reports.
Additional performance metrics.
The VMware knowledge base is a result of Heroix's special expertise with VMware software and years of supporting monitoring capabilities specifically for it.
Comprehensive reporting capabilities create a holistic picture of an enterprise's IT systems, enabling IT to better reduce downtime, meet SLA commitments and save money. For example, comparing historical performance metrics with current conditions, administrators can identify and solve existing issues faster.
Longitude VMware Edition's new summary reports allow users to quickly identify resource depletion issues that span across multiple vCenter instances and their accompanying hosts and VMs, showing CPU, memory, disk, network, file, datastore usage, cluster CPU and memory problems. The additional Zombie reports list VMs whose resource usage (CPU, memory and IO rate) are less than a user configurable threshold. This helps companies reclaim and reuse underutilized resources faster and in a more effective way.
In addition to Longitude's VMware monitoring capabilities, Longitude also monitors and reports on applications, systems and networks, providing detailed insight into overall IT performance. Longitude is already known for its power, ease-of-use and affordability, and Longitude 8.2 provides significant increases in speed and efficiency.
For more information and resources on application and network monitoring, visit Heroix's online resource library.
Pricing and Availability
Longitude 8.2 is available now. Please visit Heroix or call 800-229-6500 or 781-848-1701. Heroix also offers a 14 day free trial of all Longitude Editions. Pricing starts at $399.
About Heroix
Heroix has provided best-of-breed application performance and network monitoring solutions for 25 years to companies like Honeywell, Kaiser Permanente, Motorola, Tembec and Young Broadcasting. Heroix Longitude is the fastest, easiest-to-use, and most affordable application and network monitoring software available today. This proven, self-service solution optimizes the availability and performance of applications, databases, systems, IT infrastructure and VMware® running across multiple platforms.
*The Digital Universe in 2020: Big Data, Bigger Digital Shadows, and Biggest Growth in the Far East, December 2012, John Gantz and David Reinsel, IDC
Heroix, Heroix Longitude, RoboMon, Heroix eQ, and their corresponding logos are registered trademarks of Heroix. All other company and product names mentioned are used only for identification purposes and may be trademarks or registered trademarks of their respective companies.