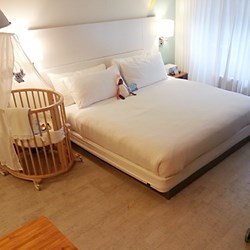 "Brooklyn is great place for a family-friendly getaway," said Jennifer Goodman, assistant general manager of NU Hotel Brooklyn.
Philadelphia (PRWEB) October 07, 2013
Never ones to miss out on a celebration, NU Hotel Brooklyn and children's boutique partner Stork are hosting a Facebook contest for the November 16 performance of Disney on Ice presents Let's Celebrate, performing at Barclays Center from November 12-17.
The contest, which goes live on the Brooklyn boutique hotel's Facebook on October 7, promises a family-friendly prize to one lucky winner, who will receive:

An overnight stay in a NU Friends Suite
Complimentary equipment rentals from Brooklyn children's boutique Stork
Two Brooklyn-themed children's t-shirts
A Disney grab bag
A $50.00 gift certificate to Stork's Brooklyn location
Four tickets to the 3 p.m. November 16 performance of Disney on Ice presents Let's Celebrate at Barclays Center
To enter, visitors must like NU Hotel Brooklyn's Facebook page and fill out the entry form.
"Brooklyn is great place for a family-friendly getaway," said Jennifer Goodman, assistant general manager of NU Hotel Brooklyn. "Through this contest, NU Hotel and Stork are highlighting some of the fantastic ways to see and experience Brooklyn. Parents will love how easy NU Hotel makes traveling with children and the kids will love the little touches, like our Brooklyn-inspired coloring NU book."
NU Hotel Brooklyn and Stork launched their partnership NU Kids by Stork in June of this year. The partnership allows families with young children to travel with greater ease and pack a little lighter. Through the partnership, various amenities are available for guests' complimentary loan; including: Stokke® Sleepi Cribs, baby bathtubs and toddler step stools. Guests may also rent larger equipment that is sturdy, of high quality and urban friendly. Among these items: Stokke® Scoot Strollers, Kickboard Mini/ Maxi Scooters and Balance Bikes and car seats.
The Disney on Ice performance at neighboring Barclays Center revolves around an exuberant 'unbirthday' celebration led by Mickey Mouse and Minnie Mouse, along with Alice and the Mad Hatter and others from the Disney gang. This results in a spectacle of a story line that meshes holidays, celebrations and festivals from around the globe.
NU Hotel Brooklyn and Stork will announce the winner of the contest on November 8. The November 16 performance will be a mini-celebration just before the holidays, inspired by all holidays, but not of any. NU Hotel and Stork really know how to celebrate!
About NU Hotel Brooklyn:
NU Hotel is inspired by the dynamism of Brooklyn and an urban style apartment. The Brooklyn boutique hotel offers modern, simple design, luxury amenities and exceptional service at the center of four great neighborhoods: Cobble Hill, Boerum Hill, Park Slope, and Carroll Gardens. NU Hotel is a member of the Independent Collection.
About Stork:
Located in Crown Heights, Brooklyn – Stork opened in 2011 to serve as a children's retail boutique selling exclusive children's clothing, shoes, and accessories for boys and girls aged 0-6 — as well as educational toys, books, and Eco-friendly household products for the entire family.
About The Independent Collection:
The Independent Collection is a growing collection of smaller, boutique lifestyle hotels located in truly unique neighborhoods of gateway cities across the US. The collection is founded on the principles of authenticity, leadership, generosity, and modesty. Hotels of the Independent Collection are created for the independently minded traveler.
About HHM:
HHM, formerly known as Hersha Hospitality Management, operates 130 hotels across the United States. It provides turnkey hotel management, asset management and receivership for properties with leading brand affiliations through Marriott, Hilton, Hyatt, Starwood, and Intercontinental Hotel Group. HHM also operates 25 independent hotels ranging from The Rittenhouse Hotel, a AAA Five Diamond property in Philadelphia, to the Larkspur Landing hotels, all-suite extended stay properties in Northern California and the Pacific Northwest. Its highly experienced team is accustomed to serving as a fiduciary to publicly traded companies, joint ventures, institutional real estate owners and private investors. Additional information on HHM can be found at hhmhospitality.com.
*NU Hotel Brooklyn is not an official sponsor of or affiliated with Disney on Ice, Let's Celebrate or the Barclays Center.