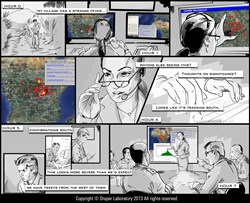 Cambridge, MA (PRWEB) October 22, 2013
A cloud computing service under development at Draper Laboratory could provide insights that enable public health preparedness and response officials to more quickly limit the severity of emerging public health crises, whether due to bioterrorism, novel influenza pandemics, or other disease outbreaks.
Draper leads a team of researchers developing the Collaborative Overarching Multi-feed Biosurveillance System (COMBS), a system that will use a cloud-based network to gather a broader range of public data from social media, blogs, search trends, open source information such as news, as well as traditional health information sources to create a dynamic, diverse data stream. COMBS includes comprehensive tools for the visualization and interpretation of the data – allowing analysts unprecedented access to biosurveillance data that will enable real-time decision making by public health officials.
In 2012's National Strategy for Biosurveillance, the White House called for improved biosurveillance capabilities to increase responsiveness to natural and deliberate threats. Biosurveillance is the set of activities that identify health incidents quickly, and support rapid and effective decision making "at all levels." The threats include natural ones such as SARS and the H1N1 outbreak in 2009, plus malevolent threats like the Anthrax attacks. Existing biosurveillance systems are better equipped to handle post-event analysis based on lab tests than to gather pre-event or very early indicators that can lead to rapid preventive measures. Those systems were usually developed for a single purpose, not addressing interagency collaboration, or rapidly evolving data sources.
On June 14, the White House published the National Biosurveillance Science and Technology Roadmap to identify and prioritize research and development toward the goals of the strategy. One of the objectives in the Roadmap, which COMBS directly supports, is to "enhance information integration, analysis, and sharing platforms for improved situational awareness of biosurveillance information at all levels, including with international partners, as appropriate."
COMBS will enable the collection, integration, analysis, and visualization of traditional and non-traditional sources of widely varying publicly available data and emerging data sources, to monitor real-time conditions affecting human, animal, and environmental health. This One Health approach is essential due to the ways humans are encountering new diseases on farms and from wildlife, especially in developing-world countries.
Using an app-store approach for data and app provisioning, COMBS will provide a user-customizable, flexible analytic environment that strongly supports collaboration between the many public health agencies responsible for keeping Americans healthy and for supporting building health capacity around the world. For the first time, biosurveillance analysis capabilities will be highly flexible and integrative of many participants with different needs and perspectives. Further, COMBS' user-friendly orientation for decision-support and collaboration, will enable faster, smarter decisions by public health officials.
COMBS data and tools will exist in a computational cloud environment, designed to enable broad data collection and powerful analytic calculations. It is designed to facilitate commercial use and support of the technology, to best support a wide range of government and non-governmental organizations. Data providers, app developers, health device providers, and other business interests could benefit from providing information to the COMBS ecosystem, or providing services based on COMBS.
In addition to its use by the public health community, COMBS will enable broader awareness of U.S. and world health status and implications, by the public, news organizations, public interest groups, and other businesses. App developers will find the COMBS app store to be an attractive marketplace for their offerings to enhance data visualization, statistical analysis, simulations, forecasts, and predictions.
The Defense Threat Reduction Agency (DTRA) is DOD's agency for countering weapons of mass destruction, including chemical, biological, radiological, nuclear, and high-yield explosives. Under its Biosurveillance Ecosystem program, DTRA funds via contract support through the Space and Naval Warfare Systems Center Pacific, multiple teams via a competitive prototype process and has continued funding for the COMBS project, valued at more than $2 million, for a total of 12 months through Phase 2. Phase 2, which began on June 14, involves demonstrating significant improvements in biosurveillance analyst workflow effectiveness, including integration of numerous outside data sources.
Draper researchers estimate COMBS could be in place for broader access by 2016 following the expected completion of the funded work, including two more one-year phases to be awarded based on performance.
Draper Laboratory
Draper Laboratory, which celebrates 80 years of service to the nation in 2013, is a not-for-profit, engineering research and development organization dedicated to solving critical national problems in national security, space systems, biomedical systems, and energy. Core capabilities include guidance, navigation and control; miniature low power systems; highly reliable complex systems; information and decision systems; autonomous systems; biomedical and chemical systems; and secure networks and communications.