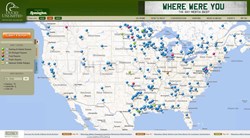 The Ultimate Online Resource for Waterfowl Hunters
Memphis, TN (PRWEB) October 04, 2013
Just in time for duck and goose hunting season, Ducks Unlimited has launched a new season of Waterfowl 360, the ultimate online resource for waterfowl hunters. The latest version of Waterfowl 360 includes new features and enhancements to help waterfowlers have their best season ever.
"Hunters should be excited about the prospects for this season," said DU CEO Dale Hall. "We experienced good conditions across most of the breeding areas this year, and duck populations are at very high levels. As those ducks migrate south, hunters across North America can use our migration map and other online tools to maximize their chances for success in the field."
Waterfowl 360 is available at http://www.waterfowl360.com and through DU's mobile apps. Hunters who visit the site can access waterfowling tips and tactics, gear features, wild game recipes, retriever training lessons, shotgunning instruction, waterfowl identification and more.
One of the most popular Waterfowl 360 features is the DU Migration Map. This interactive map allows hunters to post reports about waterfowl activity in their area. The map also features reliable and timely reports from DU biologists and field editors. Thousands of waterfowl hunters across North America use this map daily during the season to get up-to-the-minute information on where birds are and what they are doing. Last season, hunters contributed more than 30,000 reports to the map.
This year, the migration map is available in a mobile-friendly version and as an app for iPhone, Android and Windows 8 devices. The Waterfowl Migration iPhone app has been extremely popular, spending nearly a full week in September as the number-one paid sports app in Apple's app store. Also new this year is a feature that helps hunters stay informed by signing up for DU migration alerts via email.
"Our migration map traffic has increased 142 percent compared to the same period last year," said DU's Web Director, Anthony Jones. "We are continuing to improve these digital tools for waterfowlers and it's exciting to see how well they are being accepted."
Ducks Unlimited's digital media program continues to be a very effective way to reach out to current and potential supporters.
"The top priority of our website is to serve as the definitive resource for waterfowl hunting and wetlands conservation information," Jones added. "Overall traffic to our website is up 50 percent compared to this time last year. We're pleased to see that supporters continue to access our digital media more and more each year. In addition to reaching our traditional constituency, we're also using social media such as Facebook and Twitter to engage a younger generation of supporters."
Waterfowl 360 is made possible by these sponsors: Remington, Beretta, Realtree, Federal Premium Ammunition and Ram Trucks.
Ducks Unlimited Inc. is the world's largest non-profit organization dedicated to conserving North America's continually disappearing waterfowl habitats. Established in 1937, Ducks Unlimited has conserved more than 13 million acres thanks to contributions from more than a million supporters across the continent. Guided by science and dedicated to program efficiency, DU works toward the vision of wetlands sufficient to fill the skies with waterfowl today, tomorrow and forever. For more information on our work, visit http://www.ducks.org. Connect with us on our Facebook page at facebook.com/DucksUnlimited, follow our tweets at witter.com/DucksUnlimited and watch DU videos at youtube.com/DucksUnlimitedInc.