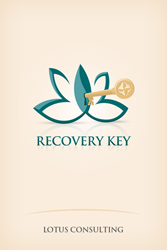 "Identify, track and stay focused on personally meaningful values and goals highlighting path to wellness and recovery."
Ann Arbor, Michigan (PRWEB) October 09, 2013
Version 1.2 of the Recovery Key App (RK) is now available. This app offers an individualized path to lasting behavioral changes and wellness by focusing on personally meaningful goals and values, trigger and stress management. The app was designed by Ilona Phillips, an addictions, eating and anxiety issues specialist.
One review highlighted: "Those in recovery can better protect themselves if they have an awareness of what their personal signs of relapse are…and this app helps illuminate those signs before it's too late."
Through interactive features, RK users monitor and record daily experiences, including mood, and navigate key triggers that jeopardize recovery. "The friendly reminders to engage in logging help keep you focused even on the busiest, most stressful and triggering of days," said one user. Tools such as affirmations and reminders help the app users in times of need and motivate users to stay on track. Recovery Key offers five key sections: Emergency Plan, My Life, Reminders, Progress and Understanding Myself.
The "Emergency Plan" (ER Plan) section gives Recovery Key users a number of tools, including mindfulness-based guided audio-recordings, to help them get through difficult experiences such as triggers, cravings and urges to use old behaviors, and navigate ambivalence about change. The "My Life" and "Reminders" sections help RK users identify, track and stay focused on personally meaningful values and goals highlighting their path to wellness and recovery.
The "Progress" section is designed to help RK users correlate moods and urges, see patterns emerge, pay attention to their wellness, reward progress. The "Understanding Myself" section is designed for basic practice of mindfulness in daily life. Recovery Key App users notice and note their mood, thoughts and urges; utilize tailored affirmations; practice gratitude and intention setting.
"This app is amazing because it allows me to look at aspects of my life and create a personalized plan that I can stick to as well as action plan when urges are experienced," said a different user.
RK users can archive, share and forward real time data to support systems. This can be their treatment provider, mentor, sponsor or other people RK users choose to share with.
Experts and reviewers notice the difference Recovery Key App is making in lives of people around the world. "When I purchased this app, I was still using meth…I had no support from those around me…this app helped me finally make the decision to quit…I saw hope!" said Recovery Key App user.
Making changes last is not easy. We all have been there. Recovery centers and individuals alike are now using the Recovery Key App to make changes stick. Recovery Key offers tools for immediate relief as well as an effective long-term plan.
Please visit http://recoverykeyapp.com for more information, including the Recovery Key App video, screenshots and press kit.
###
For more information, please contact:
Ilona Phillips at: 734-478-7358 Email: lotusconsultingpllc(at)gmail(dot)com