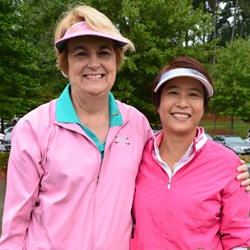 The continued suffering cancer causes is not acceptable. Please join me and my neighbors by contributing to American Cancer Society today at http://www.cancer.org.
Suwanee, GA (PRWEB) October 06, 2013
American Cancer Society's (ACS) seventh annual CFS Pink Ribbon Golf Classic set a record for the largest golfing fundraiser benefitting ACS last Tuesday (9/24) at the immaculate River Club in Suwanee, Ga. One hundred and twenty eight lady golfers competed for low-score at the scramble style golfing event teed off by pro golf circuit regular Stewart Cink of Duluth. Funds are raised through: individual and corporate donations and sponsorships; a reception featuring a live and silent auction of primarily donated goods and services; and the registration fee from each golfer. Visit http://www.pinkribbonclassic.org for more information.
The event's Co-Chairperson is Paula Dorough and the Presenting Sponsor is Bin Liu of CFS Corporation. Paula spends time throughout the year leading a team of over thirty lady volunteers strenuously seeking sponsorships and organizing the elaborate benefit. Bin lost her father to cancer and the goal of ending cancer is dear to her heart. "The continued suffering cancer causes is not acceptable. Please join me and my neighbors by contributing to American Cancer Society today at http://www.cancer.org."
All proceeds generated through the event directly support the ACS's programs including: Hope Lodge in Decatur, Georgia; Patient Resource Navigator at Gwinnett Medical Center; Road to Recovery and Look Good…Feel Better, a community-based free national program for women.
(2013, Atlanta, Georgia, USA by Bill Bryan)