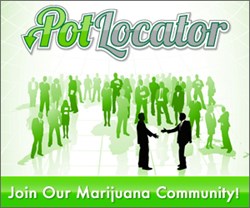 This will also help to bring further education to our patients and allows them to have a true understanding of how the medical marijuana industry operates. - John Niccolazzo, C.O.O. of Potlocator
(PRWEB) October 07, 2013
Founded in 2009, the Oregon Medical Cannabis University prides themselves on teaching and promoting self sufficiency when it comes to care giving and cultivation knowledge for state-certified Oregon Medical Marijuana patients. In teaching patients to cultivate and manipulate medicine in to fail-proof medibles and tinctures, this compassionate education center provides its students with the knowledge and tools to grow the very best in the northwest.
Over the years, patients suffering from terminal illnesses have not only survived, but thrived thanks to the successful alleviation guided by the Oregon Medical Cannabis University. The facility was founded to introduce patients to the world of cultivation and the ability to yield successful harvests time after time. Boasting an incredibly hands-on faculty of some of the most well-known names in both national and international medical marijuana culture, this institution offers courses such as Cannabis Horticulture 101, Soil Basics Grow Seminar and Cannabis Infusion Seminars.
The facility offers a patient-driven community center, complete with a High Times library, 20 years in the making. And the facility's director has referred to the Oregon Medical Cannabis University as the "Cheers of cannabis – where you can walk in the door and everybody knows who you are." This institution offers services free of charge to cancer patients.
Open six days a week, all current "students" and alumni are encouraged to take advantage of the largest Patient Resource Center in the Pacific Northwest. Patients are welcome to check out the in-house medical delivery device shop, medication lounge, vapor station, concentrate bar, media center and pool and ping-pong tables. The facility hosts community social events, competitions, harvest festivals and gatherings, truly considering this establishment a comfortable alternative to the "counter-only" medical marijuana dispensaries.
Oregon Medical Cannabis University is located in the heart of Hillsboro, the fifth largest city in Oregon. Grounded in agrarian roots, the city proudly celebrates its dedication to sustainability. At the Oregon Medical Cannabis University, students are prepped to comprehend cultivation in terms of absolute efficiency, dependent on the principles of self- sustainability. The university extends its services to citizens in local Hillsoboro, Portland, Beaverton, Tigard and Scappoose.
With unique courses, one-of-a-kind faculty and unparalleled opportunities, the Oregon Medical Cannabis University is an all-inclusive institution for patients seeking to become self-sufficient healers.
John Niccolazzo, C.O.O. of the Medical Cannabis Network is extremely proud to now be offering educational based services in our listing. This will also help to bring further education to our patients and allows them to have a true understanding of how the medical marijuana industry operates.