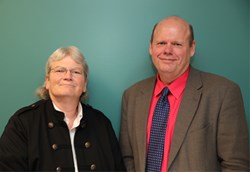 Marion, IL (PRWEB) October 06, 2013
Michael Ladwig, M.D., has been selected to serve as the Chief Medical Officer and Rose Burke as Associate Director, Patient Care Services at the Marion VA Medical Center. In these positions, Dr. Ladwig and Ms. Burke will oversee the care of nearly 43,000 Veterans serving 52 counties in southern Illinois, southwestern Indiana, and western Kentucky.
"Dr. Ladwig and Ms. Burke's experience and expertise make them a tremendous asset to our leadership team," said Frank Kehus, Interim Director. "I know that they will continue to help lead us in providing quality, compassionate, and personalized health care for each of our Nation's heroes."
Dr. Michael Ladwig has served as Acting Chief of Staff since January 2013. He was selected as the Chief of Pathology and Laboratory Medicine at the Marion VA in May 2010. Prior to this appointment, he was Chief of Anatomic and Clinical Pathology at the Martin Army Community Hospital in Fort Benning, GA and Champlain Valley Physicians Hospital in Plattsburgh, NY. Dr. Ladwig received his doctor of medicine degree from Georgetown University and graduate medical training at Walter Reed Army Medical Center. Dr. Ladwig is a U.S. Army Major serving in the U.S. Army Reserves.
"I am extremely honored to have been named Chief of Staff," Ladwig said. "I look forward to working with all of our clinical and administrative professionals at the Marion VA as we continue to provide the very best health care services to our Veterans."
Ms. Rose Burke has served as the Acting Associate Director, Patient Care Services since March 2013. She was selected as the Associate Chief Nurse for Medicine and Surgery in June 2012. Before coming to the Marion VA, she was the Nurse Manager for Medical Intensive Care at the VA Medical Center in Durham, North Carolina where she began her VA career in 1989. Ms. Burke received her BSN from the University of Wyoming and her Masters in Health Administration from Ohio University.
"I'm very happy to be working with the amazing team at the Marion VA, and being part of VA's innovative efforts to help Veterans recover and reach their full potential," Burke said.
The Marion VA Medical Center includes a 55-bed hospital, a 60-bed Community Living Center, a 14-bed Residential Rehabilitation Program, a VA Health Care Center in Evansville, Indiana, and Community Based Outpatient Clinics located in Marion, Carbondale, Harrisburg, Mt. Vernon and Effingham, Illinois; Vincennes, Indiana; and Owensboro, Hanson, Paducah and Mayfield, Kentucky.
For more information about the Marion VA, visit http://www.marion.va.gov or contact Public Affairs Officer Peggy Willoughby at 618-997-8241.