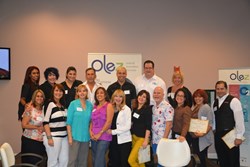 "We had an amazing experience at our recent training session at Olez Headquarters. Our stylists left enthusiastic about the treatments and felt well prepared to market and provide these services to their clients." -Tania Goyanes, Flamingo Beauty Supply
Boca Raton, FL (PRWEB) October 07, 2013
Boca Cosmetics Group, manufacturer of Olez and pioneers in the hair industry, recently welcomed Flamingo Beauty Supply, at their state of the art training center, Boca Academy. The education focused company hosted the daylong event which featured hands-on training on Olez's five unique treatments. Olez utilizes groundbreaking technology and the finest natural ingredients to repair, nourish, and improve client's hair. The product line includes: INCEPTION -Apple Stem Cell Therapy, O2 -Hair & Scalp Detox, Essence of Youth - Hair Anti-Aging, NutriFuze - Hair Diet and Advanced –Smoothing System (Smoke and Toxin Free).
In addition to becoming skilled in product application, the attendees were instructed on how to communicate key features and benefits of the Olez line to clients. These never seen before services enhance salons' existing offerings. By identifying client's hair concerns, salon professionals learned how to integrate the products into their existing services menu. One example, O2, which cleanses and detoxifies the hair and scalp through a spa like experience, can be used in conjunction with a color service to enhance the results of the color, a treatment that the company calls "premium color service", a service that provides greater results.
"We had an amazing experience at our recent training session at Olez Headquarters," said Tania Goyanes, Flamingo's Vice President, Salon Division. "The facility was beautiful and the hands-on training was informative and provided our stylists and DSC's with the necessary information to take into their salons. Our stylists left extremely enthusiastic about the hair treatments and felt well prepared to market and provide these services to their clients."
Boca Cosmetics Group looks forward to a full training schedule at Boca Academy. Hair care professionals interested in learning about Olez or perfecting their techniques can email info(at)bocacosmeticsgroup(dot)com or visit http://www.olez.com to request an online demo with an Olez product specialist.
About Boca Cosmetics Group:
Boca Cosmetics Group is a manufacturer of innovative, quality hair care products that combine natural ingredients with the latest technology, to deliver healthy and beautiful hair.