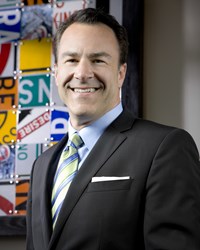 Hunting is supposed to be a way to get out and spend quality time with friends and family. Hunters shouldn't have to worry about getting hurt or killed because of faulty equipment or reckless owners.
Detroit, Michigan (PRWEB) October 05, 2013
It's that time of year again… the weather is getting cooler, the leaves are turning color, and the 2013 deer hunting season is well underway. According to reports by the Michigan Department of Natural Resources, about 654,000 hunters spent about 14 days each hunting deer last year.
"Hunting is more than sport for most hunters, it's a passion. For many hunters, opening day is the biggest day of the year," says Attorney Jason Waechter. As a personal injury lawyer, Waechter has dedicated his career to helping people hurt or killed in negligence-related accidents. Over the years, Waechter has vetted attorneys across the United States and created a network of the best lawyers who represent victims of hunting accidents due to tree stand and harness malfunctions. "Hunting is supposed to be a way to get out and spend quality time with friends and family. Hunters shouldn't have to worry about getting hurt or killed because of faulty equipment or reckless owners," he says.
Many hunters fall
Many people would be surprised to hear that, according to the Deer & Deer Hunting Tree-Stand Safety survey, one in three hunters will fall from their tree stand at some point in their hunting career, and about three percent of those who fall will sustain a serious injury or, possibly, die from it. Of course, this survey was not exhaustive, but it should certainly give hunters pause before they climb up into their stands this autumn. It is most common for hunters to fall from tree stands while they are climbing up or down, or getting into or out of the stand. This is also when hunters are least likely to wear proper safety harnesses, according to the survey.
"There are so many things that can go wrong when you're talking about hunting in a tree stand," says Waechter. "Tree stands can malfunction or fail, they may have design flaws, or they may be improperly installed. Even the most vigilant hunters can be injured or killed by a manufacturer's negligence." Waechter includes free information and tree-stand safety tips on his website, as well as links informing hunters about recalled equipment, including tree stands. His hope is that getting these tips out to the public will help keep tree-stand users safer.
Tree-stand safety tips

Wear your safety harness or fall-arrest system (FAS). Accidents are unpredictable, so the only way to ensure you will have your harness on when you fall is to wear it all the time.
Use your FAS according to the manufacturer's instructions. Wear a full-body harness that meets or exceeds Treestand Manufacturer's Association (TMA) safety standards.
Read, understand, and keep the manufacturer's instructions for your tree stand. Re-read the instructions at the beginning of each season. Provide the instructions to anyone who borrows or buys your tree stand from you.
Inspect your tree stand and all safety gear before each use. If something is worn or broken, replace it with parts from the manufacturer. Always replace your FAS after you've had a fall… it may not save you twice.
Practice, practice, practice! Practice setting up and getting into or out of your tree stand slightly above ground level. Practice hanging in your harness to get used to how it feels, and to learn how to use your suspension relief device.
Always have a plan for rescue. Hanging in your FAS for a long period of time can be fatal. Be sure you always have a way to call for help on your person that is easy to use when you are suspended.
Keep a knife on your person as well; worst case scenario, you can cut your harness to free yourself.
Make your plan known. Tell others exactly where you will be hunting, and go with a buddy if possible. If you don't have a rescue plan, don't use a tree stand.
Choose your tree carefully and follow the manufacturer's recommendations.
Do not leave a tree stand installed longer than two weeks; the manufacturer may recommend less time. Weather can wear down your tree stand quickly.
Don't climb with anything in your hands or on your back. Haul your gear, including your unloaded firearm, up with a haul line once you have reached your desired location.
Avoid tree stands that are homemade, permanently installed, or modified in any way after purchase.
Know your limit, climb within it. If you think you're too high, you are; choose a lower location.
Take your time. Make slow, purposeful movements while going up or down the tree. Rushing is not worth the risk.
Always have a rescue plan
Falls from a tree stand can result in injury, but hanging from a safety harness is not safe either. "Some hunters will fall out of their tree stands and get stuck in their harness," says Waechter. "Without a rescue plan or some way to signal for help, a hunter can be left hanging there indefinitely." He adds, "Harnesses can cut off circulation which can lead to strangulation or serious damage to nerves and tissues, but exposure is just as bad. Exposure can kill quickly, especially at this time of year when the temperature drops so fast."
TMA recommends that if a hunter is going to be hanging for a long time, they should keep moving their limbs as much as possible to encourage circulation. Ultimately, a timely rescue is the only way to minimize the damage from a fall. "Keep your phone somewhere that you know you can reach it when you're suspended in your harness, and make sure it's charged before you leave," says Waechter. "Make sure your rescuers know where you are going to be, and keep a signal device, pocket knife, and a flashlight on your person at all times. The flashlight will help your rescuers spot you more easily after dark if you get stuck in your harness."
When negligence or recklessness is involved
If a tree-stand manufacturer is negligent, even the most safety-conscious hunter may not be able to avoid serious injury. "If you get hurt using a tree stand and you think negligence is the cause, call an experienced lawyer," recommends Waechter. "Even if you think the negligence is on the part of a friend or family member who owns the equipment, their homeowner's insurance may cover your medical costs. Your lawyer may be able to work directly with the other party's insurance provider, making it easier on you to get compensation without ruining a good friendship."
If you've had a tree-stand accident and want information about your options, contact an experienced lawyer as soon as possible. Personal Injury Attorney Jason Waechter can provide you with information and refer you to the best lawyers across the U.S. to handle your hunting accident case.
###
Jason Waechter has spent two decades cementing his reputation for results. Waechter's four-lawyer law firm can assist in any personal injury case. He has contributed significantly to safety education and accident prevention. He has entrenched himself as one of the nation's premier lawyers, recently being named to the Michigan Super Lawyers and Michigan's Best Lawyers & Law Firms.