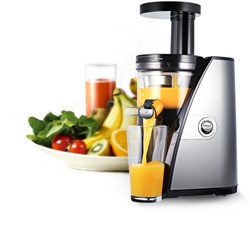 Seattle, WA (PRWEB) October 08, 2013
DNA has launched an on-line store for Hurom, at shop.hurom.com. The on-line store features all Hurom Juicers, including the new generation Hurom Slow Juicer, Original Fresh Press Juicer and Juicer with Smoothie Maker. All Hurom juicers utilize unique slow squeezing technology patented in 37 countries. Hurom has brought juicing to a new scientific level by continuously investing a third of their profits into R&D, persistently aiming to preserve 100% of nutrition and meticulously perfecting their design and technology over the last 40 years. Hurom juicers do not use sharp blades like traditional juicers do, which rotate at high speed and overheat fruit and vegetables. Instead Hurom uses a low speed auger to crush and squeeze ingredients maintaining the same temperature and preserving live enzymes and all the nutrients.
Hurom products are ergonomically designed for ease of use and cleaning; have small footprint to help save valuable kitchen counter space; are built with highly durable materials and backed by a 10-year warranty on motors. With Hurom juicers customers can juice firm and soft fruit and vegetables, leafy greens and wheatgrass; they can make nut and soy milk for better nutrition and healthier lifestyle. With the help of patented pulp control lever and juice cap users can choose between delicious juices and smoothies. New on-line store features additional information about the benefits of juicing as well as recipes straight from the Hurom Recipe Development Room.
Online shoppers can purchase their favorite juicers on several online marketplaces, such as Amazon.com, Sears.com, and LNT.com (Linens-n-Things). All orders are fulfilled by DNA using a unified logistics system. DNA conducts integrated digital marketing campaigns across all online channels on a pay for performance basis for Hurom and all other clients.
According to Ranjit Mulgaonkar, CEO of DNA Response, "We are proud to serve a client such as Hurom, because they are the leader in slow juicing technology. Hurom juicers squeeze more juice and nutrients out of fruits and vegetables, so by helping Hurom grow, we are also helping consumers get more healthy juice for their produce shopping dollar. We are able to increase Hurom's revenue and reduce their costs by providing turn-key solutions to selling across many channels. "
About DNA Response, Inc.
DNA Response, Inc. (DNA,) was founded by executives from Amazon.com, and helps consumer product manufacturers rapidly increase sales through multiple online channels, on a pay-for-performance basis. DNA helps its clients sell products directly to consumers through 19+ online marketplaces, custom-built e-stores, direct response TV, home shopping networks, popular TV shows, home shopping TV networks, big box e-tailers and deal sites. DNA provides online marketing and unified order management for processing and fulfilling orders, and a dashboard so clients can see what is happening with their online business in real time. DNA's turnkey solution helps its clients generate incremental revenue while reducing operating costs.
About Hurom
Hurom America, Inc., is the U.S. arm of Hurom Group Corporation, which was founded in Korea in 1974. Hurom is the world leader in Slow Squeezing Technology, which uses a slow-turning auger to press 30% more juice and more nutrients from fruits and vegetables. Hurom Slow Juicers have been named the Best New Kitchen Appliance by Bon Appetit magazine, and have been featured on The Martha Stewart Show.