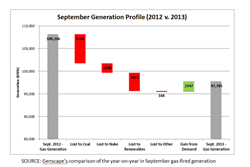 Boston, MA (PRWEB) October 09, 2013
Gas-fired generation continued to lose ground to coal for the month of September when compared to September 2012. Gas-fired generation fell by 10% (10,421 GWh) and was primarily replaced with coal-fired generation which was up 5% (6,486 GWh) year-over-year. Stronger renewable and nuclear generation also helped displace gas. In the California ISO, wind generation was up 77% last September, primarily due to the build out of wind capacity in the region.
Power demand saw a slight increase from September 2012, particularly during the first two weeks of the month. Above normal temperatures in much of the Midwest and south-central areas of the U.S., coupled with a few key unplanned coal outages, helped give gas-fired generation some life and spur real-time volatility in the power markets. September 11 was the second highest real-time West Hub settle of the year at $107/MWh as Genscape's monitors picked up coal outages at John Amos, Harrison, Conesville, and JM Stuart. At the same time monitored gas-fired generation in the RFC region increased 27% for the week.
During the same week, the South Central region of the country also saw an uptick in gas-fired generation as coal backed off. Genscape noted decreased generation from JK Spruce, Oklaunion, and Monticello, as well as a reported explosion at the JT Deely facility. For the month, on-peak average prices at ERCOT's North Hub averaged $43.11/MWh; up 49% from September 2012 when prices averaged just $28.98/MWh.
Henry Hub prices rose 6% from August and were 24% higher than a year ago, while on the coal side only Powder River Basin prices were higher than a year ago. Genscape estimates delivered PRB prices to be in the $2.39-$2.84/MMBtu range for the month of September; still very much "in-the-money" when compared to gas.
Through the end of September, year-to-date coal-fired generation is 6% higher than 2012 while natural gas is 9% lower. After a weaker summer total power demand has fallen behind by 1% (38,861 GWh).
Data reported here is based on information available in Genscape's Generation Fuel Monitor. This report takes advantage of Genscape's thousands of patented and high-tech in-the-field energy monitors and the models built by Genscape's analysts to view daily fuel consumption at U.S. power plants for all power sector fuels. Free trials are available upon request at: http://info.genscape.com/fuel-monitor-Oct13
About Genscape
Genscape is the leading global provider of energy information for commodity and financial markets. Utilizing patented technologies and proprietary algorithms, Genscape provides accurate & timely data on capacities, flow and utilization for all major energy commodities. With thousands of sophisticated energy monitors strategically deployed all over the world, Genscape is unique in its ability to measure and collect energy market fundamentals. These "measured actuals" are then transmitted to clients in real-time or near real-time. Genscape clients often gain first-mover advantage and increased market transparency to better optimize their positions. For more information, please visit: http://www.genscape.com
For all press inquiries please contact:
Molly Hislop
Marketing Specialist
Office: +1 617 790 0903
mhislop(at)genscape(dot)com