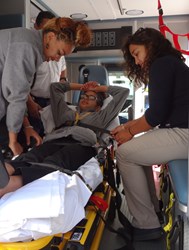 "It taught me a lot of behind-the-scenes work that happens before a victim gets to the hospital," Macie Hunter said.
Hershey, PA (PRWEB) October 08, 2013
Milton Hershey School (MHS) students in Linda Rooney Davis' Health Science Core Skills Class got hands-on experience in patient transport recently when EMS personnel from Penn State Hershey Life Lion brought an ambulance to campus and taught the students how to properly secure a patient on a stretcher and remove the stretcher from an ambulance.
"I really enjoyed spending time with the Life Lion staff," said Macie Hunter, senior. "It taught me a lot of behind-the-scenes work that happens before a victim gets to the hospital. My favorite part was being shown how to use the stretcher and stair chair, and then actually using it with pretend victims. I really liked getting to know the EMTs who helped us, and I am excited to learn more throughout the year."
Students took turns volunteering as patients while their classmates carefully pulled the hydraulic stretchers from the vehicles and lowered them to the ground. They also got to experience loading the stretchers back in.
During the lesson, students had the opportunity to look around the ambulance, ask questions, and hear directly from the EMT and paramedic what it is like to work as an emergency pre-hospital provider.
Along with practicing on the stretchers, the students also learned how to operate a special stair chair used in bringing patients up and down stairs. They were able to experience the exercise as volunteer patients and as EMTs.
Health Science is one of 11 career pathways available to Senior Division students through MHS's Career/Technical Education (CTE) program. Approximately 60 percent of students enrolled in the Health Science program go on to pursue a career in a health care field.
Rooney Davis, who is herself a former paramedic, explained how along with these hands-on lessons, students also are learning critical-thinking skills as they are trained in patient assessment and prioritizing care.
Students will take the Emergency Medical Responder certification exam through the Pennsylvania Department of Health in January. They later will have the opportunity to participate in clinical observation at the Penn State Hershey Medical Center, during which they can witness surgical procedures, diagnostic tests, and direct patient care.
More information about MHS's Health Science and other CTE programs is available at http://www.mhskids.org.
# # #
ABOUT MILTON HERSHEY SCHOOL
Milton Hershey School is a cost-free, private, coeducational home and school for children from families of low income. The School is funded by a trust established by Milton S. Hershey and his wife Catherine. Milton Hershey School offers a positive, structured home life year-round and an excellent pre-kindergarten through 12th-grade education. Our vision focuses on building character and providing children with the skills necessary to be successful in all aspects of life. Go to http://www.mhskids.org to learn more.