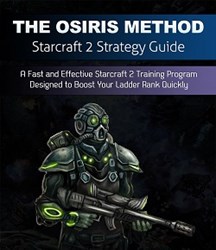 (PRWEB) October 06, 2013
The newly released Starcraft 2 training guide, The Osiris Method, has been helping players from around the world increase their rankings in Starcraft 2. This new guide takes an unprecedented but very effective approach to Starcraft 2 training. By taking training methodologies used to coach more established games like Chess and applying them to Starcraft 2, The Osiris Method has been able to come up with a unique training program for Starcraft 2 that surpasses standard methods in effectiveness.
In Starcraft 2, a player's ranking is of utmost importance. When players participate in ranked games, also known as the ladder, they are pitted against players who have a similar rank. As players win games, they gain points, and when they lose games, they lose points. If a player wins more frequently than they lose, that player will ultimately be promoted into a more difficult division. Players constantly strive rank up to the top divisions of Diamond, Master, or even Grandmaster. Only about 15% of the player base can reach Diamond league, 5% will reach Master league, and the top 200 players in a geographic region get the prestigious title of Grandmaster.
Due to the nature of the ladder, rankings in Starcraft 2 are a zero sum game: there can only be so many players in the higher brackets. If the entire player-base improves as a whole, no ones ranks will increase even though these players skills have increased. In order to make long lasting changes in rank, players will need to do more than just play the game and read about strategies, as their competition is doing the same exact thing.
In order to get better at a faster rate than the opponent, an efficient training program is required to not only improve skill but improve it at a more rapid rate than the competition. The new guide at OsirisMethod.com is geared to providing players with not only an effective means for getting better, but an efficient method for getting better. More details on the guide can be found on the official website, which can be accessed by clicking here.
About The Osiris Method
OsirisMethod.com is a cutting edge Starcraft 2 strategy training program that combines advances in neurology with tried and tested approaches to improving skill that have been used in other areas of interest like chess and business.