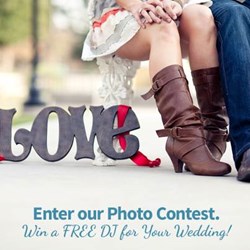 Naples, Orlando (PRWEB) October 07, 2013
Wiley Entertainment, a full-service entertainment company based in Naples, is providing a free wedding DJ service to the lucky couple who wins the company's first ever social media contest. The contest, with voting capabilities through Facebook, Twitter and Instagram, opened for entries on Oct. 1.
This multi-social platform contest asks engaged couples to submit their most creative engagement photo in order to enter for the chance to win a free, four-hour DJ service for their wedding. Couples will have from Oct. 1 to Oct. 25 to submit their photo in the hopes of winning this prize, valued at $1,200.
Clint Wiley, the founder of Wiley Entertainment, wanted to create the contest as a way to award one couple's creativity and individuality with an equally creative and exciting wedding experience. He decided to host the contest through social media so the greatest number of couples could have the chance to enter.
"We are excited to give a cool, creative couple the perfect wedding reception," Wiley said. "Our DJs love to work with fun couples and we hope those couples will hear about this incredible opportunity."
To enter, couples must "Like" the Wiley Entertainment Facebook page and then submit their most interesting, creative engagement photo before the Oct. 25 cut-off date. The winning engagement photo will be determined through fan voting, which will run from midnight, Oct. 8 until the contest closes on Oct. 25. Couples are encouraged to submit their photo as early as possible in order to earn enough votes.
Couples can earn votes from other fans of the Wiley Facebook page, from their own Facebook friends, and by encouraging their friends to vote for their photo using @WileyDJ on Twitter and with @WileyDJ on Instagram. The winning couple will be announced on October 28 and will be contacted by Wiley Entertainment for a pre-planning consultation.
About Wiley Entertainment:
Wiley Entertainment is a full-service entertainment company based in Naples. It was founded by Clint Wiley, with the goal of providing high quality, high energy entertainment at weddings and corporate events. The company includes experienced DJs, five skilled vocalists, and the award winning band, None Other. With more than 20,000 song selections as well as modern lighting and sound equipment, versatility and liveliness are at the core of each of their entertainment packages.
To learn more about Wiley Entertainment, please visit http://www.wileyentertainment.com/.
Contact:
Erin Wachtel
GreenHouse Agency
erin(at)thegreenhouseagency(dot)com
407-754-4339