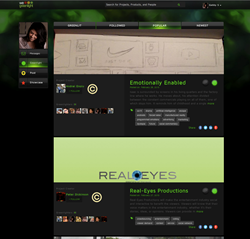 Build an idea by building a following, so you can crowdsource feedback to make your idea better and rally support to make it happen.
Burbank, California (PRWEB) October 07, 2013
WeGreenlight.com is a new social network that engages users to greenlight, post, discover, and collaborate on projects that they want to see made. Best of all, WeGreenlight provides this valuable consumer aggregation and market research for free.
WeGreenlight aims to disrupt the market research industry by taking the guesswork out of deciding which content (entertainment, products, services, etc.) to produce, or sell, by engaging the consumers to choose and "greenlight" the content they want to see made. This initiates customer relations from inception rather than at the end of the development cycle, building a consumer fan base even before the project is made.
WeGreenlight's "user generated research" is broken down into consumer activity, consumer age, consumer gender, and consumer location. WeGreenlight collects these basic user demographics when a user signs up by connecting with the user's social network(s) or via a quick easy to use sign up form. Any user can post his or her idea or project to crowdsource consumer demand. Other users can then view these projects and offer qualitative feedback and 'greenlight' the project if they want to see it made. Greenlighting a project publicly displays approval, which can be quantified into demand for the project, and the cumulative demographic information is visually displayed in intuitive graphs for producers to analyze.
WeGreenlight safeguards intellectual property rights by giving the user the choice between a standard copyright license or a creative commons attribution license. Our creative commons license allows other users to produce or adapt a project on the original creator's behalf and automatically credits that project's creator for his or her idea. Our system can do this since all final products require a link to its original project before posting.
WeGreenlight was founded by Peter Dickinson while studying film at Chapman University, as he struggled to research and market his movies and found no accessible solutions. Since then Peter has put together a team with over 40 years experience in marketing, entertainment, and website development to solve this problem. WeGreenlight will change the way market research is gathered by using direct consumer approval and feedback to help creators identify their target market before incurring a risky and costly production cycle. In return, WeGreenlight empowers consumers to voice out their product demands. By building a following before making the product, your chance of successfully launching entertainment productions and other products and services will accelerate with WeGreenlight.