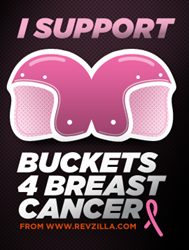 Co-Founder Anthony Bucci says: "We participate in this campaign not only for our female riders, but for all of the women who are important to us in our lives."
Philadelphia, PA (PRWEB) October 24, 2013
Throughout the month of October, RevZilla.com's community of riding enthusiasts saw splashes of pink adorning the site's familiar orange and black landscape. In honor of National Breast Cancer Awareness Month, the retailer has teamed with Living Beyond Breast Cancer to help advance the organization's mission to connect people with trusted Breast Cancer information and a community of support.
The "Buckets for Breast Cancer" Campaign, in its second year, has raised over $10,000 to date, with a portion of the proceeds from helmet sales donated to LBBC. RevZilla.Com users sported a bold graphic on their social media hangouts, featuring two twin pink motorcycle helmets accompanied by a pink ribbon to promote the effort.
Co-Founder Anthony Bucci says that the campaign "is a no-brainer for us at RevZilla. We participate in this campaign not only for our female riders, but for all of the women who are important to us in our lives." Additionally, he notes that "Living Beyond Breast Cancer is an organization that is critical to a positive outlook for any woman who is fighting breast cancer, and we are proud to partner with such an outstanding organization doing needed work in our communities across the nation."
About Living Beyond Breast Cancer
Since 1991, Living Beyond Breast Cancer has provided individuals with trustworthy information and up-to-date resources on breast cancer. In addition, LBBC connects people to a support system, helping guide them through all phases of diagnosis, treatment and recovery. Funds raised via the 2nd annual Buckets for Breast Cancer Campaign will help fund programs including LBBC's toll-free survivors hotline, networking programs, support groups, publications and the Paula A. Seidman Library & Resource Center. Visit Living Beyond Breast Cancer at lbbc.org.
About RevZilla
RevZilla.com is a global e-commerce retailer of motorcycle gear, providing all types of motorsport enthusiats with premium gear, accessories and parts for any riding adventure. Showcasing the best of industry merchandise along with award winning customer service has allowed RevZilla.com to become the premiere destination for riders worldwide.
Founded in 2007 by Anthony Bucci, Matt Kull and Nick Auger, RevZilla.com is headquartered in Philadelphia, with supporting distribution channels around the globe. RevZilla.com aspires to offer the best merchandise, the best online shopping experience and the best customer service in the industry. Visit us at http://www.RevZilla.com.