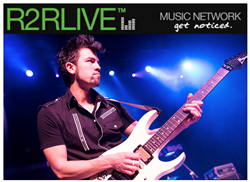 R2RLIVE is a 'must have' for any musician. - Matt Sorum, drummer for Guns N' Roses.
Dallas, TX (PRWEB) October 04, 2013
R2RLIVE.com has been adding new and well-known musical artists to its exclusive music portal. R2RLIVE is a music network collaboration of the Recording Artists Guild and Cinsay. The site offers musicians a high-profile space to showcase their music, videos, links to social pages as well as sell exclusive and branded merchandise from Cinsay On Demand.
Artists recently added cross many genres of popular music from country to rhythm and blues to alternative rock. One featured artist, Roy Hamilton, came up with his music idea overnight. He's hoping to leverage the new R2RLIVE medium to launch and promote his catchy R&B sound.
Harlequin Jones is a unique duo of singer songwriters who refer to their blend of music as 'piano punk'. The dark pop music, also called 'dark cabaret' by some of their fans, is also catchy.
Kitten is one of the more popular alternative rock bands featured on the site. Kitten performed at the first R2RLIVE music event during this year's SXSW event in Austin. The band's lead singer, Chloe Chaidez, said, "this is a great idea and opportunity." Their breakout hit, 'Cut it Out', is one of the top music videos on the site. Host of "Last Call", Carson Daly, called Chloe the 'new leading lady of rock n roll'. Garbage's lead singer, Shirley Manson, also loves the band.
Candice Graham is an indie singer/songwriter who combines blues, rock and country into a soulful blend reminiscent of Bonnie Raitt and Sheryl Crow. Graham is using R2RLIVE to promote her music and increase her fan base.
One band is utilizing the music site to not only showcase their unusual tracks but to also share with their fans 'behind the scenes' and 'making of' clips. #KKC is a most unique group intermingling hard-core punk with folk and even dubstep. Viewers can listen to tracks, get a glimpse of the band on the road and purchase a t-shirt inside their videos.
As fewer bands are connected with major labels, the ability to leverage technology and social media to reach new fans and stay connected is becoming increasingly important. Most musicians just don't have that much time or money to spend on promotion and marketing. R2RLIVE provides them a place to economically aggregate their bios, music, videos and merchandise where fans can discover the music and immediately make a purchase at the same time.
Musicians also gain access to exclusive benefits from the Recording Artist Guild (RAG) and can start making money on branded merchandise, which Cinsay manufactures, ships and sends the profits directly to the musicians.
"Cinsay is a great promotional tool that combines multiple merchandise streams into one point of purchase," said Wanz who is featured in Macklemore & Ryan Lewis' hit song, "Thrift Shop".
As more artists and fans discover R2RLIVE, the site is adding more musical content along with unique features, which will benefit both artists and fans.
While at SXSW, Matt Sorum, drummer for Guns N' Roses said, "(R2RLIVE) is a 'must have' for any musician."
Find out how to join the R2RLIVE network by visiting R2RLIVE.com for more information.