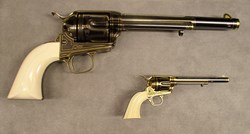 Gold and other precious metals were chiseled into steel in striking detail...
Cody, Wyoming (PRWEB) October 10, 2013
Visitors to the Buffalo Bill Center of the West in Cody, Wyoming, are completely captivated by the Cody Firearms Museum's latest exhibit featuring unique firearms engraved by Ray Wielgus—a style variously described as "art deco" or "oriental." Wielgus, a sculptor and collector of ethnographic art, retired in 1970, only to embark on a new venture that melded his talent and interests. He, his wife, and a coworker moved from Chicago to Tucson, Arizona, where Wielgus was inspired to improve his own Colt Diamondback revolver stylistically. This motivation sparked a 34-year process of transforming firearms—whose manufacturers are innovators and artists in their own right—into sculpture.
Wielgus enhanced the historicity of these mass-produced artifacts. In this collection, visitors can see an embellished full-size and a miniature version of the grandfather of Winchester's lever action rifles, the Volcanic pistol. In addition to notable western firearms, they can view accented military arms such as the Colt Model 1860 Army Revolver and the more "beautiful" firearms, like the Smith and Wesson Ladysmith that represents the soaring popularity of firearms among women.
Popular engravings on western firearms and Wielgus's passion for the ethnographic art of Africa, Oceania, and the Americas influenced the entire collection. He fused these two styles into one sculptural form through the engraving, carving, and inlaying procedures known as damascening—an art of Ancient Asian origin. Gold and other precious metals were chiseled into steel in striking detail, in order to create embellishments that reflected a lifetime of research and consummate artistry. All of the grip panels are of legal, hand-carved elephant ivory.
The Cody Firearms Museum invites visitors to be inspired by the juxtaposition of traditional firearms engraved with a previously unknown style of splendid embellishment.
______________________________________________________________________________________
Since 1917, the Buffalo Bill Center of the West has been committed to the greatness and growth of the American West, keeping western experiences alive. The Center, an affiliate of the Smithsonian Institution, weaves the varied threads of the western experience—history and myth, art and Native culture, firearms, and the nature and science of Yellowstone—into the rich panorama that is the American West. The Center of the West has been honored with numerous awards, including the prestigious 2012 National Tour Association's Award for "favorite museum for groups," the 2013 TripAdvisor Certificate of Excellence, and most recently, one of the "Top 10 Must See Western Museums" by True West magazine.
The Center is currently operating its fall schedule, open daily 8 a.m. – 5 p.m. For additional information, visit its Web site or its Facebook page.