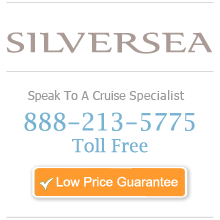 Tucson, Arizona (PRWEB) October 06, 2013
As a preferred partner of Silversea Cruises, Silversea Cruise Sale has announced an exclusive offer for popular destinations like Europe, South America and the Caribbean. Through November 30, 2013, these savings are available on select cruises. This 10 percent off the regular cruise fare also comes with five-hundred dollars in shipboard credit. As the online cruise sale division of Bon Voyage Travel, SilverseaCruiseSale.com advises booking early to secure this low rate.
SilverseaCruiseSale.com's online cruise consultants are specifically trained to support Silversea Cruises, and have received extra training from key Silversea employees. They assist with all aspects of a client's travels, and are able to get clients additional discounts and amenities. In addition to extra amenities and low rates, Silversea Cruise Sale helps clients plan shore excursions, hotel stays and manage transportation and transfers. They assist with all aspects of a client's travels, from small details like reserving specialty restaurants onboard, to booking world tours or back to back cruise tours across continents.
This announcement of Silversea Cruise Sale's exclusive offer on 2013 sailings provides cruise clients with over a dozen sailings to choose from, ranging from seven nights to sixteen nights. Since these are 2013 sailings, this pricing and availability will only be available for a short period of time. To learn more about this opportunity, go to Silversea Cruise Sale.
About the Author: Silversea Cruise Sale is one of the online Cruise Sale divisions of Bon Voyage Travel, a travel agency founded in 1976 in Tucson, Arizona. With over 35 years leading the travel industry, Silversea Cruise Sale offers additional amenities and superior service to those seeking the best cruise experience. Since Silversea Cruise Sale launched in September of 2010, Cruise Sale has expanded to operate eight dedicated online cruise sale websites, which successfully serve thousands planning their cruise vacation at the lowest price.