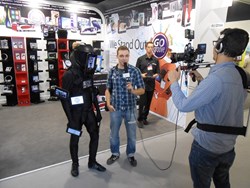 "Tabletman is the ambassador of all things GOgroove and Accessory Power. He's traveled the world helping people make fun photos and happy memories," says Steve Rapp, Art Director. "It's all about making a connection with our customers."
Westlake Village, CA (PRWEB) October 04, 2013
Tabletman returned to a packed 2013 IFA Consumer Electronics Unlimited show in Berlin, Germany. This year, Tabletman showcased Accessory Power's® most popular brand, GOgroove®. He was seen delighting the masses that flocked to the GOgroove booth as they came to marvel at the new electronics and flashy displays. More than 1,500 exhibitors participated in showing their latest electronics this year and over 240,000 people attended the weeklong event — this year's IFA was one of the biggest to date.
Tabletman spent the week informing show goers about the new GOgroove products that lined the walls and shelves of the GOgroove booth. He was also seen dancing and entertaining the public and posing for photos with IFA patrons at the show. Tabletman also handed out special prizes to those that had their picture taken with him and posted it to Facebook.
The original Tabletman was first conceptualized in Los Angeles, California, and has been seen at many different high profile events around the world. Most recently, Tabletman has appeared at the 2013 IFA in Germany, the Consumer Electronics Show in Las Vegas, an appearance at the 2013 Grammy Awards, and all throughout Southern California. Tabletman's next major appearance will be at the 2014 Consumer Electronics Show in Las Vegas Nevada.
For more information on Accessory Power, visit http://www.accessorypower.com.
###
Accessory Power is an American-based manufacturing and distribution company, with offices in USA, Asia and Europe. Since 1980, Accessory Power has been dedicated to manufacturing quality consumer electronic accessories. An important distinction that characterizes this company is an unrelenting commitment to quality in each step of a product's life; every product is backed by an industry-leading three-year warranty. Accessory Power is proud to say that they are, "The Power Behind Your Electronics!"