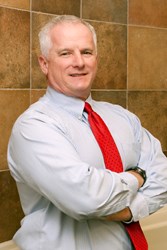 (PRWEB) October 06, 2013
Gum disease patients can look to Dr. Stephen Hale for a new form of gum disease treatment that delivers improved results in less time than other surgery options. Dr. Hale's adoption of the FDA cleared Laser Assisted New Attachment Procedure (LANAP) groups him with one percent of practitioners in his field that are certified to use this new laser gum surgery. Patients no longer have to undergo extensive scalpel surgery and the resulting recovery period.
A local anesthetic is typically used at the outset of the process, once the gum pocket depth has been identified to determine the scope of the diseased area. Dr. Hale then uses the PerioLase MVP-7 laser by inserting it into the area between the teeth and gum—the "pockets." When in place, the laser essentially kills any diseased gum tissue that is detected. All non-diseased tissue is left alone and able to remain, helping to prevent tooth loss and gum recession.
The use of a laser gum surgery over a traditional method carries many benefits in the world of gum disease treatment. These include the complete lack of any cutting with a scalpel and, therefore, the lack of sutures and associated pain levels and healing times. The overall surgery time is far less than with other methods.
As a new form of gum disease treatment, LANAP is taking a leading role. Dr. Hale is committed to providing the best benefits possible for his local patients. For more information about LANAP or Dr. Hale, contact his office today.
About The Doctor
Stephen C. Hale is a general dentist offering personalized dental care for patients in Texas City, TX for over 26 years. Dr. Hale received B.S. degree in biology from Stephen F. Austin College and his D.D.S. degree from the University of Texas Dental Branch at Houston. He continues his education today and is a member of professional dental associations. Dr. Hale is part of one percent of dental professionals providing the only FDA cleared laser procedure for gum disease and periodontal treatment. To learn more about Dr. Hale and his dental services visit his website at http://www.stephenhaledds.com and call (409) 229-4184.