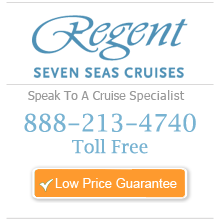 Tucson, Arizona (PRWEB) October 08, 2013
Regent Cruises Sale is excited to announce the expansion of Regent Seven Seas all-inclusive product offerings. Starting with Winter sailings in 2014 and 2015, Concierge-level and higher guests will receive up to 500 minutes of free Wi-Fi. This new development furthers Regent as the most all-inclusive cruise product on the market. This is a multi-million dollar investment to enhance Regent's fleet, allowing guests to better stay in touch with family and friends while traveling.
The fleet-wide internet upgrade will be completed by year-end, and includes:

Considerable improvements in both the quality and speed of client's online experience by doubling the satellite bandwidth
Making Wi-Fi available throughout the entirety of Regent's ships, including all suites, public rooms and outdoor decks
Replacing modems, routers and bandwidth compression equipment on board with advanced technology
Regent clients who are currently silver, gold, platinum or titanium level members will continue to receive unlimited internet in any suite category with no activation fees as they always have. However, free unlimited internet will no longer be offered at the silver level for new members who reach that level after September 30, 2014. By giving one full year of advanced notice of this change, bronze clients will have the opportunity to reach the silver level and be eligible for the current free unlimited internet benefit.
The upgrade to the fleet's onboard internet capabilities combined with this change in Regent's loyalty program will combine with Regent Cruises Sale's ability to assist with all aspects of a client's travels to make the ideal booking and cruising experience for Regent cruise guests. To find out more about these changes and all the latest on Regent visit RegentCruisesSale.com.
About the Author: Regent Cruise Sale is one of the online Cruise Sale divisions of Bon Voyage Travel, a travel agency founded in 1976 in Tucson, Arizona. With over 35 years leading the travel industry, Regent Cruise Sale offers additional amenities and superior service to those seeking the best cruise experience. Since Regent Cruise Sale launched in September of 2010, Cruise Sale has expanded to operate eight dedicated online cruise sale websites, which successfully serve thousands planning their cruise vacation at the lowest price.