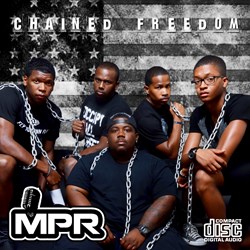 Miami, FL (PRWEB) October 04, 2013
Coast 2 Coast Mixtapes announce the release of the "Chained Freedom" Mixtape by MPR. The 18-track project is currently available for download. The mixtape features appearances from Yung Nicholls, Showtime, J Brown, JCD3, and AK Dre.
MPR aka Making Prophecy Reality is a group of young rappers from northern Delaware consisting of Yung Nicholls, J Brown, AK Dre, JCD3, and Showtime. MPR met at their Church youth group at a very young age and grew up together sharing their love for Hip Hop. Determined to make music that would bridge the gap between new school and old school, the group would hang out at the local studio almost every day practicing their rhymes and recording tracks. Influenced by the likes of Kanye West, Nas, Cam'ron, A Tribe Called Quest, Lupe Fiasco, Leaders of the New School, and other notables in the rap game; MPR not only pays tribute to the greats but create their own distinct sound carrying on the tradition of powerful messages, ill flows, and bumping beats seldom found in today's Rap music.
MPR flaunts their understanding of real Hip Hop, amazing lyricism, and authentic subject matter; turning heads with the premiere of their first mixtape, "Chained Freedom". "Chained Freedom" is a refreshing break from the over produced shallow records which tend to saturate the mixtape market and radio waves. MPR has the aggressive delivery of Nas and Canibus with the authentic sociopolitical messages found in old school NWA records. Songs like "Flava In Ya Ear", "Two Words", "Shook", and "American Justice" remind us why we fell in love with Hip Hop in the first place. The mixtape is not all serious East Coast style raw Hip Hop, it also highlights songs like "Wanna Love You" a playful love song and "I Don't Like" which features Southern style hard hitting beats found in your favorite Trap records. This is a must listen to mixtape for any true Hip Hop heads.
MPR has been featured in the first issue of Secdum Magazine and have received radio play on Kiss 101.7 and WDEL FM. MPR tours the eastern coast bringing their unique style to unsuspecting audiences who soon become true believers in the message they deliver. Keep a look out for their first original CD, "Triumph", to be released in early 2014. For more information on MPR, check them out on their Facebook page.
Boilerplate:
About Coast 2 Coast Mixtapes
Coast 2 Coast Mixtapes are the most widely distributed mixtapes in the world, with over 100 million downloads/plays generated by over 200 volumes officially hosted by major artists. Coast 2 Coast has a solid reach in the new music industry with a digital magazine, DJ coalition, industry tips blog, yearly convention, and more. Coast 2 Coast Mixtapes represents a unique opportunity for artists of all urban genres, from major to indie. For more information, visit http://www.coast2coastmixtapes.com.